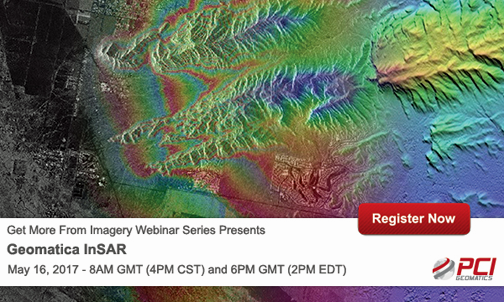 In this webinar, PCI Geomatics takes a deep dive into the new InSAR processing module that is now available with the Geomatica 2017 product.
Geomatica's InSAR module offers an easy to use and powerful set of processing tools to work with interferometric Synthetic Aperture Radar (SAR) imagery to derive deformation maps and extract elevation models.
Deep stacks of InSAR pairs can be analyzed to derive cumulative deformation, or velocity of deformation changes. Attendees will be able to download the Geomatica 2017 trial software and work with a RADARSAT-2 InSAR pair to derive deformation and elevation products.
With this webinar, attendees will learn...
Overview of the InSAR module and key components
Supported data formats and sensors
Best practices for image acquisition and scene selection
Processing to derive deformation products
Processing for elevation information extraction
Quality assurance steps and best practices (using quality reports, coherence maps, etc to guide decision making through the processing of InSAR imagery
Driving the webinar will be David Piekny, the Product Marketing Manager, and Shawn Melamed, theTechnical Solution Specialist, both of PCI Geomatics. Thewebinar will be conducted on May 16 at 8:00 a.m. GMT (4:00 p.m. CST) and 6:00 p.m. GMT (2:00 p.m. EDT).
To register for this webinar, please access this direct link...