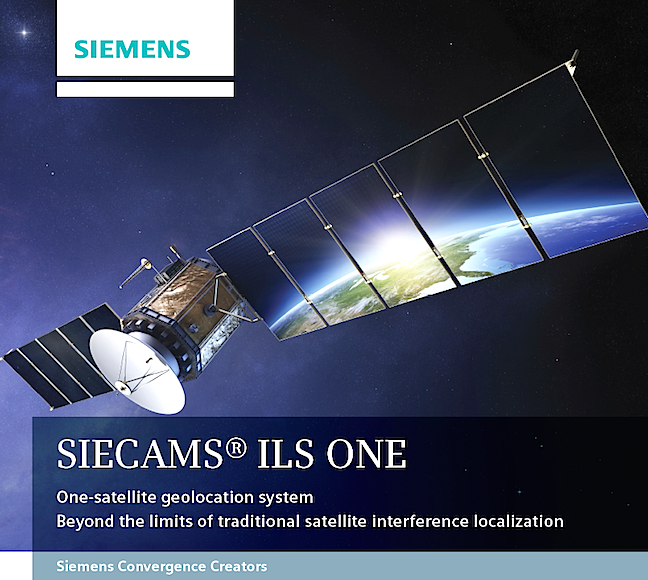 [Satnews] Siemens Convergence Creators has developed SIECAMS® ILS ONE, a one-satellite geolocation solution that provides reliable localization of interference signals without the need for an adjacent satellite. Global satellite operator Eutelsat will implement this innovative Siemens Convergence Creators geolocation solution from first quarter of 2016, further to participating in its proof of concept validation by making the company's expertise and infrastructure available to Siemens Convergence Creators.
Existing satellite geolocation systems require at least two geostationary satellites in close proximity to each other in order to obtain sufficient crosstalk for reliable geolocation signal processing. And even though there are hundreds of in space, many of those satellites are very isolated in terms of usage of different uplink frequency ranges, polarization and footprint coverage. This is especially true for satellites working in the KA-Band. In these cases, crosstalk is either not applicable or too small to be measurable.
In addition, even if a suitable adjacent satellite is within reach, the system still needs to know the exact positions and velocities, or ephemeris data, of both satellites for accurate geolocation. This can only be guaranteed if the affected and the adjacent satellite are operated by the same provider, or if providers share their satellites' operational parameters. The crosstalk on the adjacent satellite needs to be within the same frequency range and polarization as the interference signal on the affected satellite.
With all of these preconditions, traditional geolocation tools, although frequently effective, have reached their limits, and operators are always searching to enhance their capabilities.
SIECAMS® ILS ONE analyzes signal distortions that are primarily caused by satellite movement, atmospheric or weather influences and many other environmental factors. By comparing such signal distortions of the interference signal with known signals by applying our patented quantum correlation algorithms, SIECAMS® ILS ONE is able to identify the precise area of the interference source resulting in a significant increase in resolved interference issues well beyond the limits of traditional satellite interference localization systems
SIECAMS® ILS ONE puts next-generation geolocation at the fingertips of satellite operators right now. It overcomes the limitations of existing interference localization tools and provides an additional solution that will contribute to the ability to provide reliable operation of satellites, regardless of their distance to adjacent satellites.
Mark Rawlins, Eutelsat's Director of the Communications System Control Center, in charge of the effective delivery of the company's services, stated, "We are looking forward to using this innovative solution from Siemens Convergence Creators as it enhances our ability to localize interfering signals transmitted on our global fleet of satellites. Our customers from South America to Asia Pacific will benefit from even more reliable and secure communications. We are proud to be the first operator to take on this solution that is in line with our ecosystem's efforts to minimize the effects to services caused by interference."
"Technology advancements are extremely important in reducing satellite interference, and the SIECAMS ILS ONE is a welcome addition to that. The more satellite operators who adopt cutting edge solutions, the better the opportunity to make a real impact," says Martin Coleman, Executive Director, the Satellite Interference Reduction Group (IRG).
The Satellite Interference Reduction Group (IRG) has been working to reduce interference. As part of many initiatives, improving geolocation services, processes, and new technology are important aspects of the group's remit.
Hans Martin Steiner, Head of Space Business Unit, Siemens Convergence Creators, "The efforts to deliver the best quality of service to all users of satellite communications are the driving forces behind the development of highly advanced features in our SIECAMS® product. With SIECAMS® ILS ONE, we have taken a great step forward in battling interference and are proud that this has become the solution of choice for one of the world's leading satellite operators".
SIECAMS® is the satellite carrier monitoring and interference localization solution that lets operators identify interference and manage carriers in one comprehensive system to ensure high quality satellite communication. Its modular architecture can be customized to integrate with existing infrastructure. SIECAMS® enables the identification and localization of satellite interferences in one single solution with one intuitive graphical user interface (GUI) allowing quick measures to arising problems.