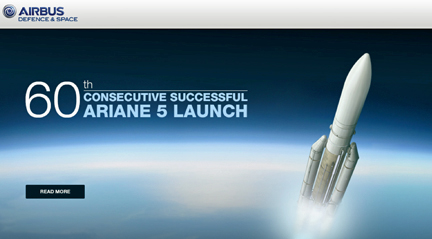 [SatNews] Airbus Defence and Space is preparing for the launch of MEASAT-3b, scheduled for September 11th (CEST) on board an Arianespace Ariane 5 launch vehicle, the program which Airbus Defence and Space has been the prime contractor for since 2003.

"MEASAT-3b is the largest satellite ever to have been ordered by Asian operator MEASAT," said François Auque, Head of Space Systems. "The satellite and its co-passenger will be launched by Ariane 5, making this the third flight this year where Airbus Defence and Space has been the prime contractor for both the launcher and its payload, following the successful launches of Astra 5B and the fifth ATV space cargo vehicle."

The satellite will be launched into the 91.5 degrees East orbital position, where it will join MEASAT-3 and MEASAT-3a. Operating together, the three satellites will form Asia's most robust satellite neighborhood. Equipped with 48 Ku-band transponders, MEASAT-3b will be used to support demand for DTH and data services across Australia, India, Indonesia and Malaysia. The Launch and Early Orbit Phase (LEOP) operations will be conducted from the Airbus Defence and Space control center in Toulouse.

As the prime contractor for the Ariane launchers, Airbus Defence and Space has been coordinating the industrial chain for the Ariane 5 program since 2003, bringing together more than 550 companies (more than 20 percent of which are SMEs) in 12 European countries. The company likewise manages the entire industrial logistics chain, all equipment production and the complete integration of the launcher in French Guiana, in accordance with the customer's specifications.
The Airbus D&S infosite may be accessed at http://airbusdefenceandspace.com/