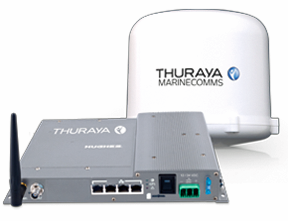 [SatNews] Thuraya Telecommunications has launched its first dedicated maritime broadband terminal as it strengthens its focus on this growing segment.

Thuraya Orion IP is a maritime-specific broadband terminal manufactured by Hughes Network Systems, LLC (Hughes). Capable of data transfer at rates up to 444kbps, Thuraya Orion IP leverages the Company's highly reliable and uncongested network, with Maritime Broadband pricing packages to provide the best value for connectivity available to users in the shipping sector. Building on Thuraya's well-established voice and narrowband maritime offerings, Thuraya Orion IP further increases the choice available to owners and operators looking to combine reliable hardware with cost-effective, flexible pricing plans.
The terminal is been designed for users who want simplicity in installation, flexible operations, and a platform that enables vessel operators to use their own value-added services as well as those from Thuraya. The Thuraya Maritime Broadband pricing plan, launched in 2013, has proved popular with owners and operators thanks to its flexibility: post-paid plans enable users to choose from high volume, low usage or VSAT backup options.The Thuraya satellite network provides high quality L-band coverage spanning Northern Europe, Africa, the Middle East, North and South Asia and Australia. Current estimates suggest that at least 30,000 merchant maritime vessels operate under its footprint, including thousands of vessels that previously could not justify the higher CAPEX and running costs of competitor offerings.