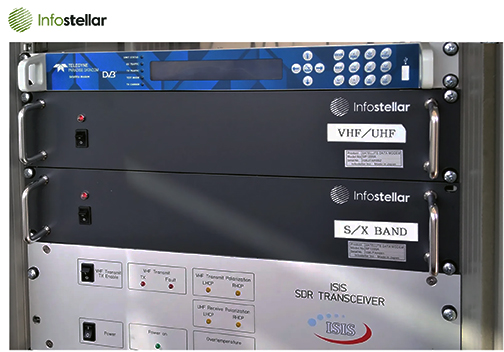 Infostellar has partnered with leading ground systems manufacturers to simplify the StellarStation integration process for new users — partnered ground systems manufacturers include Innovative Solutions in Space (ISIS) and Teledyne Paradise Datacom.
As a result of these partnerships, StellarStation has been deemed compatible with several widely used ground station hardware options. Those ground station owners can connect their equipment to StellarStation's sharing device, StarPass, without concern for incompatibility. This will allow them to connect to the StellarStation network.
Once connected to the StellarStation network, ground station owners can sell their unused communication time to other users. This ground station sharing enables users to offset their own communication costs or recoup maintenance costs.
Compatible equipment
Innovative Solutions in Space (ISIS) Full Ground Station Kits for VHF/UHF VHF/UHF Ground Station Transceiver
Teledyne Paradise Datacom Qubeflex satellite modem
Infostellar looks to expand this partnership to more ground systems manufacturers to support a broad variety of satellite operation needs.
StellarStation is a quick, flexible ground station aggregator for new space satellite services. After one-time setup, satellite operators can access any ground station across our global network. Ground station owners also have the option of sharing their unused capacity to other operators.