Orbital Sciences Corporation (NYSE:ORB) has announced the MEASAT-3a commercial communications satellite has arrived at its launch site at Baikonur, Kazakhstan.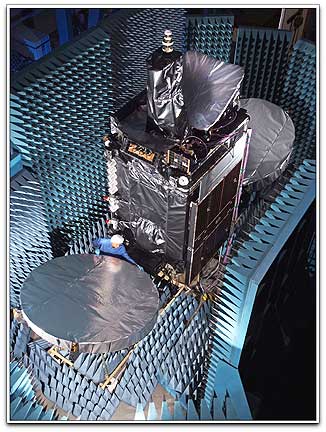 The
MEASAT
spacecraft is scheduled to be launched into geosynchronous transfer orbit aboard a
Land Launch
rocket. The launch is currently scheduled to take place in late June 2009. The arrival of
MEASAT-3a
at Baikonur marks the return of the spacecraft to the launch site following a six-month process to decontaminate, diagnose, repair, and retest the spacecraft after it was damaged during crane operations at the launch complex and returned to the company's Dulles, Virginia, facilities. The accident resulted in postponement of the satellite's initial launch date and the initiation of a series of processes by
Orbital
to repair and retest the satellite that focused on ensuring mission success. The MEASAT-3a satellite was designed, developed, built and tested by Orbital under a contract awarded to the company in 2005 by MEASAT Satellite Systems of Malaysia. Originally designed to replace the
MEASAT-1
spacecraft, MEASAT-3a will be MEASAT's fourth communications satellite, providing C-band communications services throughout Asia, the Middle East and Africa, and Ku-band direct-to-home television broadcasting to Malaysia and Indonesia. The spacecraft will be located at an orbital slot of
91.5 degrees East
and will generate approximately 3.5 kilowatts of payload power.