Soufrière Hills volcano on the Caribbean island of Montserrat had been quiet for months before bursting into life in early October, 2009.
Since October 4th, the volcano has erupted ash and steam, pyroclastic flows have cascaded frequently down its flanks, and scientists at the
Montserrat Volcano Observatory
have observed vigorous growth of the summit lava dome.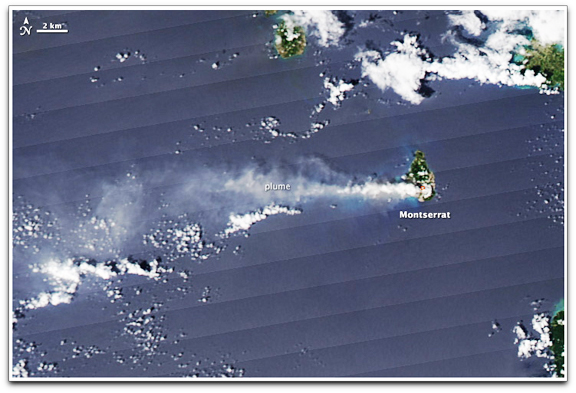 This natural-color image was acquired at 3:25 p.m. local time on October 13, 2009, by the
Moderate Resolution Imaging Spectroradiometer
(
MODIS
) aboard
NASA
's
Aqua
satellite. A plume of ash and steam, possibly topped by clouds, extends west from Soufrière Hills. The
Air Force Weather Agency
reported ash at flight level 200 (6,100 meters). MODIS also detected a hot spot (outlined in red) at the volcano's summit, likely from the lava dome. The diagonal lines stretching across the image are an artifact of the MODIS sensor.