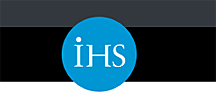 [SatNews] IHS Inc. (NYSE: IHS) has announced key findings from their annual Middle East & North Africa Pay TV Market Monitor report.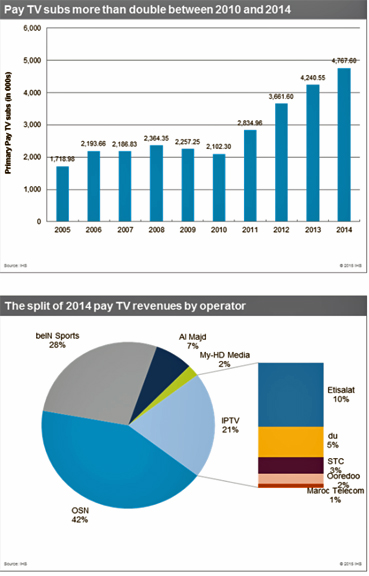 The report found that 2014 was another year of substantial growth for the pay TV market in the Middle East and North Africa (MENA) region, with pay TV revenues jumping from 702 million euros in 2013 to 873 million euros in 2014. While most households continue to rely predominantly on free satellite TV, the total primary pay TV households rose to 4.8 million from 4.3 million in 2013, a year-on-year increase of 12.4 percent.
"This is the largest increase in revenue globally," said report author Constantinos Papavassilopoulos, senior analyst at IHS Technology. "The MENA region represents huge opportunities for investors. If we look at the demographics alone, over 60 percent of the population is under 35, they are media-literate and have developed international tastes in TV content."
IHS forecasts that between 2015 and 2019, the MENA region will grow five times higher than the rate of the US, UK, Germany, France and Italy.Major factors in growth for 2014 were: the successful anti-piracy measures, the high quality pay TV offerings, the investment in local (Arabic) content and the 2014 FIFA World Cup Finals.
The threat of piracy has been considerably curbed recently in the region after the successful cooperation of major broadcasters, pay TV operators, satellite operators and online content providers with the authorities in the Gulf States and in countries like Egypt and Jordan. Additionally, the pay TV business in the region is experiencing a consolidation process (mergers & acquisitions, carriage deals) which is creating entities with stronger finances, more robust business plans and more efficient exploitation of local talent and resources.
IHS expects positive growth in the pay TV market to continue, with primary pay TV households reaching 6.6 million and revenues €1.7 billion in 2019.
All forecasts in IHS Technology – MENA Media & Telecoms Intelligence Service are done in-house based on historical and current data gathered first-hand directly from the companies concerned, and from trade bodies, regulatory authorities or government departments with which IHS Technology maintains a relationship. IHS does not rely on third-party sources for its reports. This approach provides a sound basis on which to develop IHS models, all of which are built company-by-company and technology-by-technology. Totals are then derived from the component parts and are thus wholly granular. The countries included in the study are: Algeria, Bahrain, Egypt, Jordan, Kuwait, Lebanon, Libya, Morocco, Oman, Qatar, Saudi Arabia, Tunisia and the UAE.