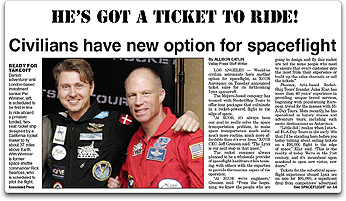 Earlier this month, Jules Klar, founder of Phoenix, AZ-based RocketShip Tours, announced that his company will immediately begin selling rides to the edge of space for $95,000 per flight.
Participants will fly aboard the
Lynx
, a two-seat suborbital vehicle being built by California-based
XCOR Aerospace
.
Naturally, there has been a flurry of media reactions, and you can see a collage of web and print news clips is available
here.
"Years ago, my dream was to introduce the world to new travel opportunities at prices that were consistent with a unique experience," said
Klar
. "In 1961 I created
$5-A-Day Tours in partnership with Arthur Frommer
that enabled thousands of Americans to see Europe at affordable prices." After moving to Arizona, Klar created
Great American Travel
, a high-end boutique operation specializing in luxury cruises and tours. "We've helped thousands of sophisticated adventurous travelers visit exotic destinations all over the world including Antarctica, where they developed a deeper appreciation for its beautiful, pristine and fragile environment.
Today, I am very proud to announce this partnership with XCOR Aerospace to offer participants an out of this world experience—a front row seat to the edge of Space.
"
"The natural evolution of human exploration knows no bounds. RocketShip Tours and XCOR have come together to usher in the private sector's role in space exploration. There is no doubt that a new era of pioneering space enthusiasts is emerging. In fact, prior to signing this agreement with RocketShip Tours, XCOR had already taken paid reservations for approximately 20 flights." said Klar.
XCOR Chief Test Pilot and three-time Space Shuttle Pilot and Commander
,
Rick Searfoss
said the Lynx will carry people or payloads to the edges of space up to four times a day.
Seated next to him in the co-pilot seat, participants will undoubtedly experience the thrill of a lifetime.
The awe-inspiring view of the curvature of Earth, the thin blue mantle of the atmosphere below, and inky blackness of space above will provide participants with unforgettable memories beyond description.
XCOR officials discussed the technology used on the
two-seat, fully reusable launch vehicle that takes off like an airplane, and lands the same way
, while
Chris Gilman
of
Orbital Outfitters, a NASA spacesuit contractor
, demonstrated the spacesuit technology that will be worn by those flying in the Lynx. Gilman,
winner of an Academy Award for special effects
, said the suit is both lighter and safer than older NASA spacesuits.