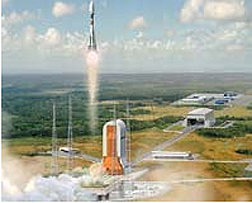 The first launch of a Russian Soyuz rocket from the European Space Agency base at Kourou in French Guiana has been postponed until April 2010, Russia's Progress space program said Tuesday.
The postponement is due to a
delay "linked to a mobile launch pad
," the Itar-Tass news agency quoted
Progress director
Alexander Kirilin
as saying.
The
first launch of a Soyuz in cooperation with the European Space Agency was initially scheduled for the end of 2009
and had
already been postponed once
to January 2010.
The move to
French Guiana
, an overseas department of France located on the north coast of
South America
, is a
major step for Russia, which has mostly relied on the Baikonur launch pad in Kazakhstan
.
French Guiana's closeness to the equator
allows heavier payloads as launches can gain extra momentum from the Earth's own spinning motion
. The Soyuz rockets will be able to carry three tonnes instead of the usual 1.7 tonnes.
The head of the Russian space agency said Tuesday that Russia would
more than double the number of civilian satellites in orbit by 2015
,
RIA Novosti
reported.
Roscosmos chief
Vitaly Davydov
said there were currently 50 such satellites in orbit.
"That figure should more than double before 2015," the news agency quoted Davydov as saying.
by Staff Writers Moscow (AFP) Aug 25, 2009