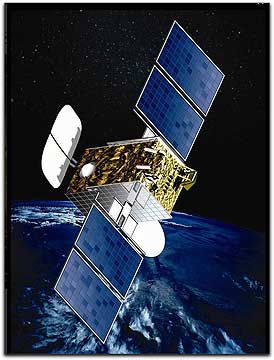 Start-up satellite broadband service provider Avanti Communications of London announced that it has secured more than $300 million in loans and guarantees from the U.S. and French export-credit agencies for a Hylas 2 Ka-band satellite to be built by Orbital Sciences Corp. of Dulles, Virginia, and launched in the first half of 2012 by France's Arianespace launch consortium.
To complete the Hylas 2 financial package, Avanti has agreed to sell 21.5 million shares in the company to new and existing institutional investors at 4 British pounds per share to raise 86 million pounds before expenses. The new shares will represent 48 percent of the share capital of the enlarged company, Avanti said.
The description of the satellite indicates that the Hylas 2 will have nearly triple the capacity of the Hylas 1 satellite scheduled for launch in mid-2010, and will serve as a backup of Hylas 1 and permit Avanti to accommodate a larger number of subscribers in the same Hylas 1 coverage area of Western Europe.
Hylas 2 will also expand Avanti's geographic reach into Eastern Europe, the Middle East and southern Africa, the company said in a filing with the London Stock Exchange's Alternative Investment Market, where Avanti shares are traded.
Avanti said the
U.S. Export-Import Bank and France's Coface export-credit agencies have agreed to provide loans and loan guarantees totaling 194 million British pounds ($313.3 million) to finance Orbital's construction of Hylas 2 and Arianespace's launch of the satellite in the first half of 2012.
Avanti said the
U.S. Export-Import Bank and Coface financial support
is denominated in U.S. dollars but declined to provide the exchange rate used for the package. The two facilities "
bear an aggregate annualized interest rate, including up-front fees and recurring annual rates, of below 6 percent,
" Avanti said in the stock-exchange filing. The two agencies' commitments, which both carry 10-year maturities, will be drawn down during the satellite's construction and launch period, and then repaid over seven years.
Avanti said
Coface has "provided an offer of guarantee which is open for acceptance until March 2010," and is expected to be completed with a commercial bank. Unlike the U.S. agency, Coface does not provide loans directly, but guarantees loans made by commercial banks.
Avanti said Hylas 2 is expected to weigh 3,100 kilograms at launch and will provide 8.28 gigahertz of capacity to up to 1 million subscribers. Hylas 1, built by a joint venture between Astrium Satellites of Europe and the Indian Space Research Organisation's Antrix commercial arm, has a throughput capacity of 3 gigahertz and can serve up to 350,000 subscribers, Avanti said. Hylas 2 "is a much larger satellite and therefore greatly increases our revenue and profit potential,"
Avanti Chief Executive
David Williams
said in a statement accompanying the stock market filing. "With an equity dilution of less than 50 percent, we gain additional satellite revenue-generating capacity of 275 percent. The market for Ka-band broadband services is growing at a much higher rate than originally anticipated."