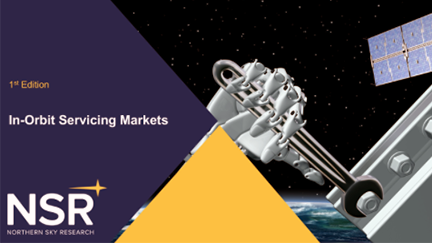 As multiple aspiring in-orbit servicing providers race to bring new capabilities to the market in the coming years, can customer demand match industry expectations?
Join NSR in this FREE webinar assessing the emerging in-orbit servicing industry, plus an in-depth look at satellite life extension market potential. The date is Thursday, July 12, at 10:00 a.m. EDT. Register for this informative event at this direct link...

Leveraging NSR's industry-first analysis of In-orbit Servicing markets, the following critical questions will be answered:
What are the main applications for satellite servicing?
How much commercial demand will emerge for life extension services?
Which customers will be early adopters of servicing?
What is the value proposition of satellite life extension?
How much revenue will life extension generate in the next decade?
When will in-orbit servicing become a standard offering?
Even if there is a schedule conflict, register anyway and obtain a copy of the slides and access to the on-demand presentation.