[Satnews] NSR's Wireless Backhaul via Satellite, 10th Edition is the longest-standing industry analysis and forecast of the satellite Internet and telephony backbone sector—the study includes 3 key segments:
Mobile Backhaul
Internet & Telephony Trunking
IP Content Distribution (NEW FOR 10th Edition)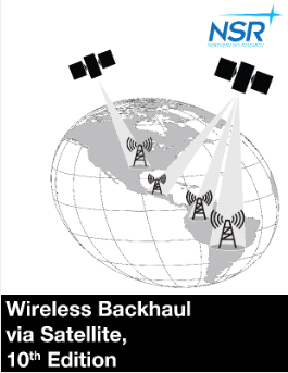 The assessment covers the installed base of sites in seven regional markets, investigates trends impacting market growth and business models, forecasts capacity requirements and equipment shipments, and calculates satellite capacity and CPE revenues.
The main issues and questions addressed in the study include:
What are the trends driving or restraining growth in the installed base for each market vertical and region?
How is HTS expanding the addressable market in all verticals, and how are Business Models evolving for Service Providers, Equipment Vendors and Satellite Operators?
How are market elasticity and the downward trend in pricing creating new demand and opening new markets?
What is the addressable market, and what are the opportunities in each region?
What are the technology trends shaping the industry, and how is demand for 2G/3G/4G services evolving in each region?
What are the implications of bandwidth-hungry sites in the battle of frequencies and architectures? What is the satellite capacity demand for each service in each region, and how is this being provisioned?
With Video and Media consuming most of the IP Traffic, can satellites enter the IP Content Distribution market serving CDNs, Video Offload and other opportunities?
What are the revenues to be generated from capacity provisioning and customer premises equipment (CPE) sales in each region and market vertical?
Widebeam C-, Ku- and Ka-band coverage together with an HTS breakout into C-band, Ku-band, Ka-band and non-GEO HTS is now a standard part of this report. In addition, for the Mobile Backhaul section, this study includes a comparison of backhaul technologies (terrestrial and satellite), a series of financial models comparing different satellite architectures and base station technologies, and a section assessing the addressable market both in terms of total mobile base stations and the opportunities to extend network coverage.
NEW in this Edition
The Wireless Backhaul via Satellite, 10th Edition study adds a range of new content. For Mobile Backhaul, NSR includes an assessment of the addressable market both in terms of total mobile base stations and new economically feasible base stations to extend network coverage. NSR also adds a discussion on how the emergence of HTS and the trend towards Network Management outsourcing is influencing the evolution of Business Models across the different layers of the value chain. With some of the Non-GEO constellations consolidating their plans, this edition includes an assessment of the possible impact of these networks in the Backhaul and Trunking Markets.
Moreover, with Netflix accounting for over 30 percent of capacity at peak periods in North America and Cisco forecasting 62 percent of traffic crossing Content Delivery Networks (CDNs) by 2019, it is clear this is a growth segment for the telecommunications industry. NSR includes analysis of how the satellite industry can find a role in the IP Content Distribution market by serving CDN)and other key applications.