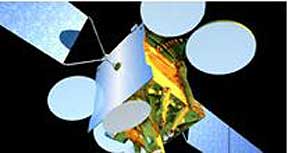 [SatNews] Arab Satellite Communications Organization (Arabsat) announced today that the launch of 5A will take place on June 23rd, 2010 at 21:42 GMT by Arianespace (Ariane-5 Rocket).
This is the
second Arabsat launch this month
. On June 3, the BADR-5 satellite has been successfully placed into geosynchronous transfer orbit by International Launch Services (ILS) from the Baikonur Cosmodrome in Kazakhstan.
Khalid bin Ahmed Balkheyour
President & CEO of Arabsat
said "
Arabsat-5A multi-mission satellite will provide additional capacity at 30.5º East for a large range of satellite communications services such as television backhauling and broadcasting, telephony, business communications, Internet trunking and the provision of VSAT and other interactive services, over the whole continent of Africa, Central Asia and Middle East (MENA) region"
. Arabsat-5A Satellite model is Eurostar E3000, manufactured by both French Astrium and Thales Alenia Space.

Arabsat-5A will have a launch mass of 4,800kg and a spacecraft power of 11kW at the end of its 15-year designed lifetime. Arabsat 5A is the 4th Eurostar built for the Arab Satellite Communications Organization (Arabsat) based in Riyadh, Kingdom of Saudi Arabia, and the 1st Eurostar E3000 in a series of four Arabsat 5th generation satellite ordered to date.
The launch event will be broadcasted live on Arabsat Promotional channel on the following frequencies: Badr - 4: 11,996 H - Badr - 6: 11,747 V
Arabsat, founded in 1976 by the 21 member-states of the Arab League, has been serving the growing needs of the Arab world for over 30 years and is ranked as the world's 10th largest satellite operator reaching millions of homes (170m viewers, 340 TV channels, 160 Radio stations) in over 100 countries across the Middle East, Africa and Europe.