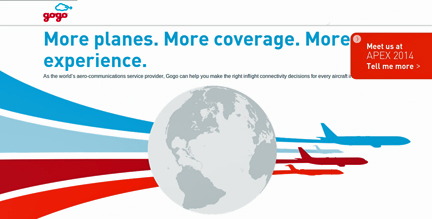 [SatNews] Gogo has announced the company has signed a definitive agreement with Aeromexico, Mexico's global airline, to provide in-flight Internet and wireless in-flight entertainment (IFE) service on at least 58 Embraer and Boeing 737 aircraft operated by Aeromexico.

Gogo previously announced in December 2013 that it had agreed on the principal terms and conditions with Aeromexico related to the service. As part of the definitive agreement, at least 20 of Aeromexico's 737 aircraft will receive Gogo's nexgen in-flight connectivity solution—2Ku. Aeromexico is the first airline to commit to 2Ku.The advantages of 2Ku are significant. Gogo believes that 2Ku is the fastest solution available in the marketplace and expects it to deliver peak speeds of more than 70 Mbps to the aircraft at launch and more than 100 Mbps to the aircraft when next generation satellites become available. The 2Ku antenna is two times more spectrally efficient than other antennas in the commercial aviation market, which makes it capable of providing more bandwidth at less cost.
2Ku's performance benefits will be even more dramatic in the tropical regions of the globe where the performance of other satellite solutions degrade significantly due to restrictions associated with operating at high skew angles. Gogo expects both its connectivity service and Gogo Vision to be available to Aeromexico passengers starting in the fourth quarter of 2015.
Gogo President and CEO Michael Small said, "Aeromexico's commitment to 2Ku is evidence of the advantages that 2Ku brings to the market – especially for aircraft that operate in tropical regions around the world."
"As the airline that connects Mexico and Mexico with the world, we look forward to being the first Mexican carrier and the first in Latin America to offer our passengers in-flight Wi-Fi via Gogo, the leader in this space," said Aeromexico CEO Andres Conesa. "The decision to deploy 2Ku is a natural fit for many of our 737 aircraft and it assures that our passengers will have the latest technology available at launch."
For more information, please visit the the Gogo infosite at http://www.gogoair.com/gogo/splash.do
The Aeromexico infosite may be found at http://aeromexico.com/