This new emergency vehicle, Hitachi from Kokusai Turkey, is fully loaded and will offer communications in the worst of situations, such as weather, turmoil, disaster recovery and assisting public safety agencies. Hitachi Kokusai Turkey's General Manager, Cemal Yilmaz said, "The staff that respond to these terrible natural tragedies are incredibly brave and they need the best mobile communication capabilities in order to perform their roles effectively. This is the most advanced compact mobile communications vehicle that we have ever designed and built. It will save lives and we're proud to have created a new standard in this area."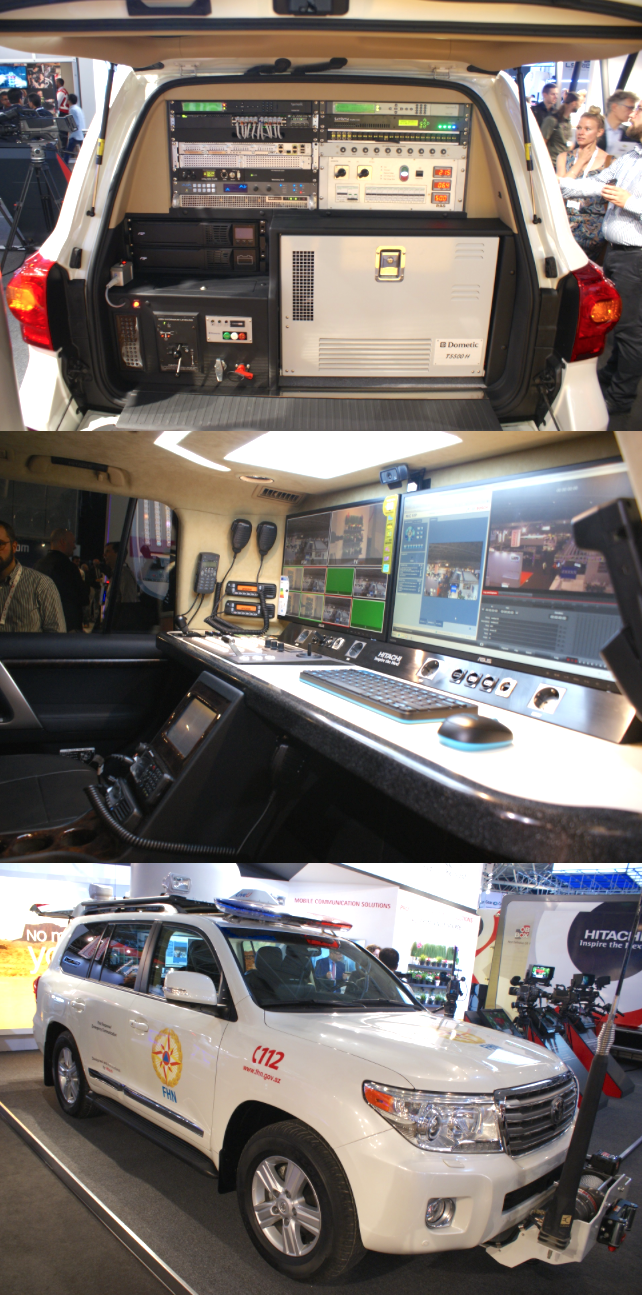 Hitachi of Kokusai Turkey delivered a new Mobile Communication Vehicle to The Ministry of Emergency Situations of the Republic of Azerbaijan. With all the vehicle's design, systems integration, manufacturing and commissioning work was carried out at Hitachi's specialist center outside Istanbul, Turkey, it will provide ultra-rapid communication facilities at the heart of a natural disaster zone.
Based on a Toyota Land Cruiser chassis, the vehicle has been completely rebuilt to integrate a number of advanced communications systems. The mobile multi communication platform consists of PKM 120 drive away antenna, PMR radio and cellular communication networks for up-linking streaming video, voice and data for first responder applications such as DSNG news, disaster recovery and, public safety agencies. The complete system was designed and manufactured by Hitachi Kokusai Turkey, integrating Hitachi wireless cameras, mobile antenna and coach building products.
Having undergone extensive coach building, the modified Toyota Land Cruiser is fitted with numerous adaptations including power generators, air conditioning systems, pneumatic masts, stabilizing jacks and cranes and external lighting systems.
No matter where this vehicle travels its on-board facilities ensure that it is able to communicate efficiently and reliably with control centers. On board facilities include broadband satellite communications, mobile radio communications, iridium satellite telephone and wireless 3/4G LTE technologies.
Alongside these, the Mobile Communication Vehicle possesses advanced video production resources. These include Hitachi HD6000 broadcast quality wireless cameras and leading edge production tools developed by Ross, AJA, Pals, Cisco and Harmonic. This mobile video production facility will enable broadcasters to use the output in their news broadcasts.
"We selected Hitachi as our partner on this demanding project since they are the recognized leaders in this market with many vehicles already operational in critical applications worldwide," commented Mirza Shukurov, Head of the information, communication and technology department at the Ministry of Emergency Situation's Crisis Management Center. "This vehicle, purchased based on our agreement in 2014, has been designed from the ground up to meet our very specific needs. Its communications and video production capabilities are rugged, reliable and highly sophisticated. This vehicle can save lives and will ensure that we have solid and reliable communication links wherever we need to go, irrespective of the disaster situation."