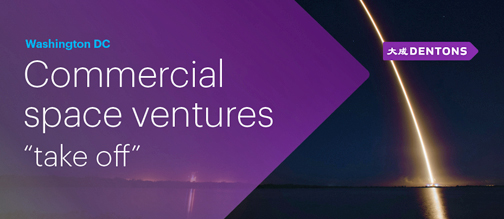 The commercial space industry is witnessing a new era of technologically disruptive activities, which would have once been described as science fiction.
Along with a renewed interest in lunar projects, private entities are venturing into uncharted territories with plans to harvest asteroids, colonize Mars or clean up space debris. Such pioneering commercial strides in outer space call for necessary reforms in the legislative and regulatory framework to match pace with these technologically innovative endeavors. Regulatory certainty is imperative to encourage and incentivize the steady flow of investment in these space ventures.
Oversight of "non-traditional" commercial space activities
The existing regulatory licensing framework for commercial space activities in the United States is not implemented by a single unified authority. It is disparately monitored by the Federal Aviation Administration (FAA), for commercial launches and re- entries; the Federal Communications Commission (FCC), for radio broadcasts and space; and the National Oceanic and Atmospheric Administration (NOAA), for remote sensing operations.
The process of FAA payload review, as a precursor for a potential launch license application, has recently gained traction in the eyes of the US government as a method to regulate non-traditional commercial operations in space in conformity with its international legal obligations.
FAA payload review and determination
The Commercial Space Launch Activities Act (51 U.S. Code §50904) confers the authority to the FAA to make payload determinations, and the related regulatory requirements are laid out in the section on "Launch License" regulations (14 CFR §415, Subpart D). Each payload is subject to compliance monitoring by FAA before launch, unless otherwise exempt. A payload review may either be conducted as part of a license application review, or on request from a payload owner or operator in advance of or apart from a license application. The review procedure requires the FAA to engage in an interagency process, and consult with other agencies to determinewhether the proposed launch would impact public health and safety, safety of property, US national security or foreign policy interests or international obligations of the United States.
The informational requirements for a payload review include payload name, class, physical dimensions and weight; owner and operator (if different from person requesting payload review); orbital parameters, hazardous materials; intended payload operations, and delivery point in flight at which the payload will no longer be under the licensee's control.
Bigelow Aerospace had approached the FAA Office of Commercial Space Transportation (AST) for a payload review. In a letter dated December 22, 2014, which was publicly disclosed much later, the FAA recognizes "the private sector's need to protect its assets and personnel on the Moon or on other celestial bodies." Further, the agency relied on congressional guidance to demonstrate its intention "to leverage the FAA's existing launch licensing authority to encourage private sector investments in space systems by ensuring that commercial activities can be conducted on a non- interference basis."
The FAA also outlined the fundamental concern of the Department of State regarding the national regulatory framework, which has been described as "ill-equipped to enable the U.S. Government to fulfill its obligations under the Outer Space Treaty with respect to private sector activities on the Moon or other celestial bodies." In its letter, the FAA expressed its support for Bigelow Aerospace's development of a lunar habitat, and stressed its commitment to continue "working within the federal government to put in place the necessary framework to support such activities and provide Bigelow with the security it seeks to conduct peaceful commercial operations on the lunar surface without fear of harmful interference by other AST licensees."
The Bigelow payload review was followed by a request from Moon Express on April 8, 2016 to conduct a similar payload review of its MX- 1E spacecraft, which is capable of transfer from Earth orbit to the Moon, making a soft landing on the lunar surface, and performing post-landing relocations through propulsive "hops." In its press release, Moon Express claims to have "actively consulted with the White House, US federal agencies and Congressional oversight committees to fashion an interim 'Mission Approval' arrangement to license its 2017 mission, by enhancing existing regulatory processes which assure that the mission will be consistent with U.S. law, policy and international treaty obligations." The FAA made a favorable payload determination on July 20, 2016. The related FAA factsheet states that, "In the absence of legislative relief, the FAA will continue to work with the commercial space industry to provide support for non-traditional missions on a case-by-case basis when the law permits."
The mission approval framework created by Moon Express has been described as "an elegant solution to increase regulatory certainty and comply with treaty obligations" by Representative Jim Bridenstine (R-OK), who recently introduced the American Space Renaissance Act.

The "Mission Authorization" Proposal
Pursuant to Section 108 of the Commercial Space Launch Competitiveness Act (Public Law 114-90), the White House Office of Science and Technology Policy (OSTP) submitted a report to Congress on April 4, 2016. The report's objectives were two-fold. First, to assess current and near-term activities under three categories of unprecedented commercial space activities planned by American companies: private missions beyond Earth's orbit, new on-orbit activities and space resource utilization. Second, to recommend an appropriate authorization and supervision approach for these activities.
With a view of the international legal obligation of the United States under Article VI of the Outer Space Treaty to authorize and continually supervise the activities of nongovernmental entities, the report noted that the US' existing method of separate licensing frameworks for launch and re-entry, remote sensing and communications "do not, by themselves, provide clear avenues through which the United States Government can fulfill its Article VI obligations in relation to the newly contemplated commercial space activities" described above.
The final section of the report, on recommendation of an authorization and supervision approach, introduces a legislative proposal for a "Mission Authorization" framework:
"Through the Mission Authorization proposal, the Administration does not seek to establish a comprehensive regulatory framework for the type of outer space activities described in Section 1. At this early stage in the development of these activities, consisting primarily of experimental technology development and demonstration, the Administration believes it would be premature to establish a comprehensive regulatory framework mirroring those for mature commercial space activities, such as launch services. Instead, the proposed legislation is intended to establish a process no more burdensome than is necessary to enable the United States Government to authorize these pioneering space activities in conformity with its treaty obligations, and to safeguard core public interests, such as national security. By providing a clear path for authorization and supervision of new space activities, the legislation would encourage investment in those activities and foster and promote a robust domestic commercial space industry.
The Mission Authorization proposal is closely modeled on the FAA's Payload Review process, in that the FAA would coordinate an interagency process in which designated agencies would review a proposed mission in relation to specified government interests, with only such conditions as necessary for fulfillment of those government interests. For example, the Department of State would be responsible for reviewing proposed missions for consistency with the Outer Space Treaty, and would recommend authorization conditions only as necessary to ensure conformity with the provisions of this treaty. The legislative proposal is not intended to authorize any agency to prescribe substantive, generally applicable regulations. The regulations FAA would develop would simply outline the procedural aspects of getting a Mission Authorization, consistent with the case-by-case interagency process outlined above.
"In addition to providing a regularized, predictable mechanism for authorizing commercial space activities, the Mission Authorization proposal is designed to preserve the competitiveness of the American launch industry. At present, United States Government review processes tied to the launch licensing framework—such as the Payload Review process—are limited to payloads launched from the United States. To the extent payload owners perceive these existing processes as presenting regulatory risk or inconvenience, they serve as a disincentive for purchasing launch services from American providers. By contrast, the authorization requirement in the Mission Authorization proposal would apply to United States nationals irrespective of launch location, thus enhancing the global competitiveness of the American launch industry."
The report includes an appendix with draft legislative language designating the Department of Transportation as the federal agency to grant such authorizations, to maintain a registry of those authorizations and to require holders of such authorizations to report on their activities periodically and if there is any material change to their operations. The secretary of Transportation is required to coordinate with the secretaries of Defense, State and Commerce, the administrator of the National Aeronautics and Space Administration (NASA), the Director of National Intelligence and other appropriate government departments and agencies.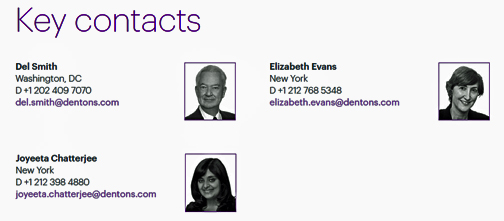 According to a report by the Tauri Group, more venture capital —$1.8 billion— was invested in space in 2015 than in the prior 15 years, combined. With this surge in cutting-edge technological developments as well as investment reflects increased interest in this market, because the growth potential for both established and emerging players is prolific. The imminent set of reforms in the regulatory environment described above will pave the way for secure investments that are conducive to successful commercial ventures in space. For additional information or queries, please contact any of the Dentons personnel listed above.
www.dentons.com

Dentons' Space Business Group encompasses all facets of satellite and space industry legal concerns, both domestic and international. The firm's lawyers bring global experience and capabilities to a focused, interactive team of specialists able to respond quickly and efficiently to client needs.