Philip Sloss has posted an article at the NASA Spaceflight.com infosite that, following a quick end to a hot-fire test two months ago, the agency's test team at the Stennis Space Center in Mississippi ran the RS-25 Development Engine 0525 in the A-1 test stand this past Wednesday. The last test of this engine on December 12 was manually cut off after only 30 seconds, coincident with a fire observed near the engine powerhead.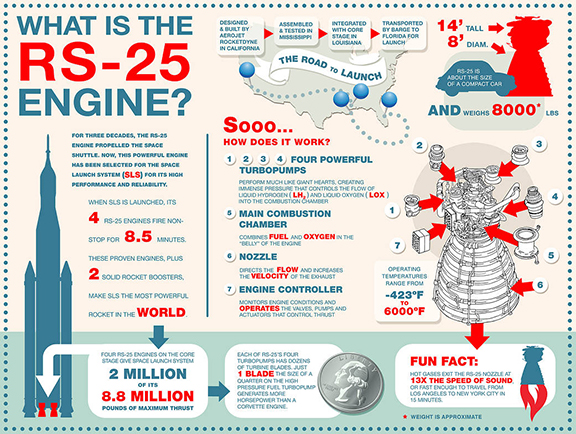 Wednesday's test was the eighth in the "Retrofit 1b" series for prime contractor Aerojet Rocketdyne's production restart program. Four RS-25s will power NASA's Space Launch System (SLS) Core Stage and Aerojet Rocketdyne is using modern, updated manufacturing techniques that are aimed at reducing the production cost of new engines.
The previous test started at 3:24 pm Central Time on December 12, 2018, and ended 30 seconds after ignition when the shutdown command was manually sent to the engine. A fire was observed around the engine powerhead in the live NASA Television coverage for several seconds prior to the manual shutdown.
NASA released a short update on December 20 that the test was manually terminated early due an anomaly in the data and that damage to the stand and the engine were limited. "The root cause has been traced to a non-flight test pressure transducer mounted near the engine," Philip Benefield, Systems and Requirements Team Lead for NASA's SLS Liquid Engines Office, said in an email.
To read the entire article, please visit this Spaceflight.com direct link...