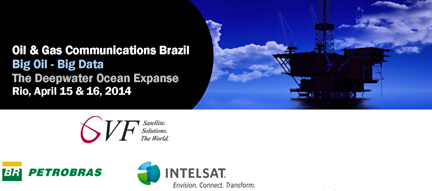 [SatNews] The GVF Oil & Gas Communications Brazil 2014: Big Oil, Big Data: The Deepwater Ocean Expanse conference (O&GCommsBrazil 2014, http://www.uk-emp.co.uk/current-events/o-g-comms-brazil-2014/) will take place at the Windsor Plaza Copacabana Hotel in Rio de Janeiro on April 15th & 16th, 2014.
The conference brings the GVF-EMP Oil & Gas Communications Series to its 20th event, and to the fourth annual conference in the global Series to address the communications networking imperatives of the Brazilian region of the global 'oil & gas patch'. The event program—which will build on the successes of the previous three Rio de Janeiro conferences in 2011, 2012, and 2013 and of the previous 19 conferences of the entire global Series—is supported by Petrobras as well as by Intelsat, Hughes, SES and Telespazio.
The organizers have announced the latest updates to the conference program, which will feature speakers/panellists from Advantech Wireless, Arycom, Baker Hughes, Embratel, Gilat Satellite Networks, GVF Training, Hispamar, Hughes, Inmarsat, Intelsat, Petrobras, Schlumberger, SES, Signalhorn, StarOne, StatOil, Tesacom, Unisat, and Wineguard. Additionally, representatives of other organizations such as BT Global Services, KVH, Newtec America do Sul, O3b Networks, Orange Business Services, SatMex, and TIM Cellular have been invited to join the program.
The event will be jointly chaired/moderated by J.R. Cristóvam Nascimento, Chief Executive Officer, Unisat Engenharia de Telecomunicações & Correspondent/Chief Trainer for GVF in Brazil, and GVF's Martin Jarrold, Chief, International Program Development.