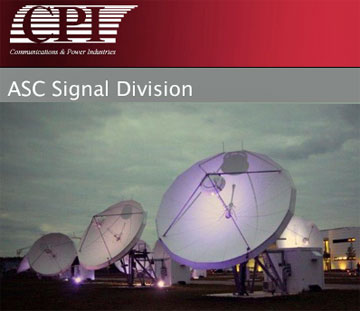 [Satnews] The ASC Signal Division of Communications & Power Industries LLC (CPI) will offer the opening toast to the global teleport industry at the World Teleport Association's (WTA's) 21st annual Teleport Awards for Excellence Ceremony and Luncheon.

The ceremony and luncheon will take place at noon on March 8 at Satellite 2016 at the Gaylord National Resort and Convention Center in Maryland. This is the fourth consecutive year in which CPI ASC Signal Division will present the opening remarks at the ceremony.
Since 1995, WTA has presented annual awards to companies and individuals who have dramatically demonstrated excellence in the field of teleport operations, development and technology. Nearly 150 teleport industry CEOs and representatives, along with satellite operators and members of WTA, are expected to attend the sold-out luncheon, at which one of three finalists will receive the coveted Independent Teleport Operator of the Year award. The president of CPI ASC Signal Division, Keith Buckley, will lead a toast to previous recipients of the award and to the teleport industry and will present the day's first award, the Teleport Technology of the Year.
The theme for the Awards Luncheon is "The Teleport of Tomorrow." The theme is based on a white paper recently issued by World Teleport Association that summarizes interviews with global executives on the changes expected to impact the teleport industry. Buckley has been a regular part of the global "Executive Dialogue Series" with WTA, most recently speaking at the National Association of Broadcasters (NAB) on how the teleport industry can manage its customer relationships more effectively.
"Once again, CPI ASC Signal Division is honored to be a part of this year's WTA Awards Luncheon, and we are very much looking forward to the event. WTA focuses on the satellite communications industry from the ground up, and its members are a critical audience for CPI ASC Signal Division," said Buckley. "The teleport industry is vital to our customers, and recognizing excellence among the world's independent teleports is an important duty that makes us all operate at a higher level. We enjoy connecting with many of our customers and prospective customers in the same room."