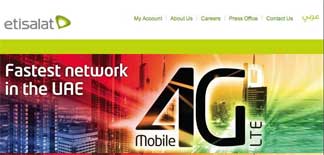 [SatNews] New year, new partnership...
YahLive, the UAE based satellite broadcasting company, today signed a partnership agreement with Etisalat to collaborate on satellite broadcasting services. Under the new agreement, Etisalat will establish uplink services to YahLive's Y1A satellite which broadcasts at 52.5 degrees E.
News of the agreement will be
welcomed by UAE based companies as it will allow national channels to be broadcasted in HD format for the first time, and on the HD hot-spot in the region, through YahLive's easily accessible and growing HD satellite offering.
Following the signing ceremony with Etisalat,
Mohamed Youssif
,
CEO of YahLive
, said: "The national channels in HD are the key attracting element to our satellite, so it was extremely important that we could offer an uplink service to those national channels, in addition to other channels based in UAE.
"This partnership with Etisalat comes within our mandate to enhance our offerings and our outstanding TV broadcasting services. We are delighted that Etisalat has joined forces with us to
extend the audience reach of its HD channels. We will offer Etisalat with satellite based broadcast solutions that will bring highly targeted, reliable, effective coverage and high definition TV.
YahLive will also have a dedicated service team to respond to changing requirements." he concluded.
Commenting on this development,
Ali Amiri
,
Executive Vice President Carrier & Wholesale Services, Etisalat
, said: "We very much value this collaboration with YahLive in using Etisalat's state of the art HD uplinking facilities which will further enrich our bouquet of services and broadcast offerings, while enabling broadcasters to extend their reach both in the UAE and in the region."