General Atomics Electromagnetic Systems (GA-EMS) has announced that the United States Air Force (USAF) Space and Missile Systems Center (SMC), on behalf of the National Oceanic and Atmospheric Administration (NOAA), has awarded the company the Hosted Payload Solutions (HoPS) Mission Delivery Order for the Argos Advanced Data Collection System (A-DCS).
Under the Indefinite Delivery Indefinite Quantity (IDIQ) contract, GA-EMS will launch a 110 kg. Orbital Test Bed (OTB) satellite and integrate the Argos A-DCS payload, which will be provided by the French Space Agency. The SMC HoPS program is designed to facilitate the placement of government payloads aboard commercial satellites.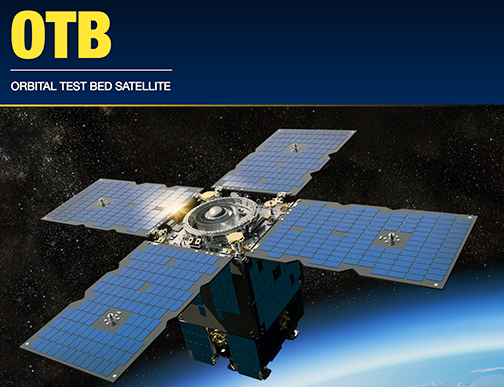 The Argos A-DCS mission is supported by the NOAA Cooperative Data and Rescue Services Program. Argos is an international program that collects data from thousands of sensors and transmitters located around the world. Currently, data is collected and distributed for use in numerous applications, including ocean buoy tracking, wildlife and fishery monitoring, and maritime security, as well as non-environmental uses.
GA-EMS hosted satellites provide a unique opportunity for customers to launch payloads into LEO without incurring the cost and schedule overhead normally associated with commissioning a full satellite mission. The versatile OTB satellite design provides the flexibility and scalability to suit a single mission payload or the simultaneous launch of multiple payloads on a single platform, providing a cost-efficient solution to meet a wide variety of requirements.
Executive Comments
Scott Forney, President of GA-EMS, said the company is pleased to have been selected as the hosted payload provider supporting the HoPS Argos A-DCS mission. The firm's OTB platform is well suited to the needs of customers such as the U.S. Air Force, as the demand for more cost efficient solutions to deliver technologies to space continues to grow. By leveraging GA-EMS scalable architectures, volume-efficient packaging, manufacturing expertise, and on orbit experience, the company can be more responsive and tailor platforms to meet customer's mission objectives.
Nick Bucci, VP of Missile Defense and Space Systems at GA-EMS, noted that this Air Force contract award further demonstrates the versatility of the OTB architecture and its utility to a number of applications. The contract award comes on the heels of the company's recent selection to host NASA's Multi-Angle Imager for Aerosols (MAIA) instrument payload. In addition, GA-EMS has successfully built and are awaiting the launch of an OTB satellite hosting multiple payloads, including NASA's Deep Space Atomic Clock and an Air Force Research Laboratory Modular Solar Array payload. The company firmly believe this approach offers significant advantages to help rapidly and efficiently launch new missions into space.
General Atomics Electromagnetic Systems (GA-EMS) Group engages in the research, design, and manufacture of first-of-a-kind electromagnetic and electric power generation systems. GA-EMS' history of research, development, and technology innovation has led to an expanding portfolio of specialized products and integrated system solutions supporting aviation, space systems and satellites, missile defense, power and energy, and processing and monitoring applications for critical defense, industrial, and commercial customers worldwide.