[SatNews] Optus has announced that it is partnering with Inmarsat to design and deliver a new and significantly enhanced portable mobile satellite terminal, which will be the latest version of the company's popular Optus MobileSat product.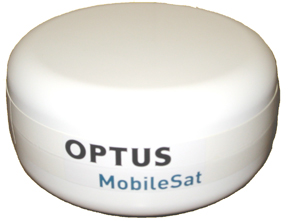 Now with even greater data capability, MobileSat is perfect for business and consumer customers in remote and rural parts of Australia. The new Optus MobileSat provides highly reliable and resilient communications via Inmarsat's award-winning L-band satellite network for customers outside of Optus' 3G coverage areas. As compact and robust as its predecessor, the new Optus MobileSat terminal enables not only voice calls and SMS but also supports data services such as email, web browsing and image transfer—all at speeds of up to 140kbps, regardless of how remote the location. Tested in some of Australia's harshest conditions, MobileSat is ideal for remote and rural parts of the country. The device is also designed specifically for use in noisy environments such as trucks, vans and tractors. The transponder, handset and roof-mounted antenna can be installed by Optus accredited MobileSat dealers and do not require technical expertise to use.
With the new and improved MobileSat, customers will be able to...
Do more while on the move—select from either a 'voice only' device or 'voice and data' device that will support satellite voice, SMS, email and enables customers to transfer files, access the internet and use applications in remote locations
Turn their vehicle into a mobile communications hub—browse the Internet, access social media and connect with your office PC with potential data speeds of up to 140kbps, even in the most remote locations
Crank the volume when they're making a racket—use the new 'Amplified Extension Speaker' included with the device to enable hands-free operation of the phone, even in the noisiest of vehicles and environments
Keep their existing MobileSat phone number, or obtain a new Australian 0145 MobileSat number
Stay safe and connected, with a high quality, reliable connection 'back to base' or with emergency services, even in the most remote locations
Paul Sheridan, Vice President, Optus Satellite, said, "There have been few products in the Optus mobile satellite range as popular as MobileSat. "Once up and running, fleet operators, employers and families alike can stay connected with MobileSat even in the most remote parts of the country.We know from working with some of Australia's leading businesses and government organisations that reliable communications is critical to health, well-being, productivity and safety in remote locations. That's why we anticipate strong demand for this new product, particularly across industries such as transport, agriculture, utilities, mining, oil and gas and government agencies such as emergency services."
The Optus infosite: http://www.optus.com.au/