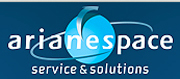 [SatNews] During the preparations for the roll-out of the launcher for flight VA222,
an anomaly occurred on a fluid connector between the cryogenic upper stage
and the launch table.
As a result, Arianespace has decided to postpone the launch initially scheduled for April 15, 2015, in order to replace this part and perform the subsequent verifications.
The launch vehicle and its THOR 7 and SICRAL 2 satellite payloads are maintained in fully safe conditions and in stand-by mode.
The new launch date targeted will be announced very soon.