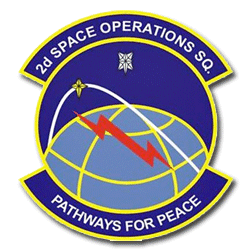 Global Positioning Satellite Vehicle Number 23 — time for a fond farewell.
The USAF's 2nd Space Operations Squadron bid goodbye to Global Positioning System Satellite Vehicle Number 23 via final command and disposal at Schriever Air Force Base, Colorado, on August 26, 2016. Older, less capable satellites, such as SVN-23, are moved into a disposal orbit at end of life to reduce risk to the GPS constellation, and to create space for more satellites. As GPS satellites do not carry the amount of fuel required for de-orbit maneuvers, they are instead pushed to a higher orbit, roughly 1,000 kilometers above the operational GPS orbit.
SVN-23 has a unique story, as its journey of almost 26 years came with a rough beginning – it severely malfunctioned in its initial orbit. 2 SOPS contractors Bruce Carlson and Mike O'Brine were on the operations floor when the satellite's solar array stopped working. At the time, the operators realized the design flaw in the vehicle. If they did not correct the malfunction, SVN-23 would have additional failures, which could actually endanger their ability to dispose of it.
In 2005, a decision was made to allow normal operations on the B side of the solar array drive and miraculously it worked for the remaining 11 years of life on the vehicle. The extra care and diligence with SVN-23, through hundreds of operators and contractors, sustained the 25-year-old satellite's life to the final command Friday, a bit of a marvel, since the design life of the spacecraft was only supposed to be 7.5 years. The team had to switch the solar array's mode to the second drive motor to save the vehicle's life.
Capt. Aaron Blain, 2 SOPS DOA (analysis) flight commander, said that this is actually a story of the men and women who've been keeping these vehicles alive much longer than expected. The launch occurred on the 26th of November in 1990 and early orbit operations were completed in the early part of December. The satellite was stabilized and, 12 hours later, the A side of the solar array drive failed.
According to Bruce Carlson, the crew asked, hey, what's up with this, and the reply was "Oh, it looks like the solar array appears to have failed to power off conditions. We'll just power it back on and it will come back on. Oh wait, it didn't." That was a fun day or two when that happened, he added.
O'Brine commented that for the next 14 years, twice per orbit, a technique was run called scissoring, where (during) orbit dawn and orbit dusk, the solar arrays were manually commanded back and forth, all from a ground command.
Lt. Col. Peter Norsky, 2 SOPS commander, said, "This is just an incredible event and I'm really proud that you all have put so much into (SVN-23) and every single one of our birds. Having something last this long is truly a testimony to (our) operations. Every single day that you are all on the ops floor, you're contributing to things like this, so thank you for what you do."
Story by 2nd Lt. Darren Domingo, 50th Space Wing Public Affairs, USAF