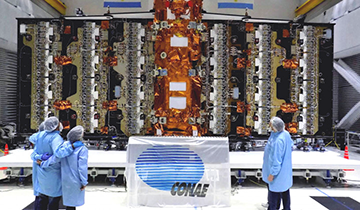 Argentina is preparing for the launch of their first of four satellites to help monitor geological conditions and manage disasters, according to that nation's National Space Activities Commission (CONAE).
Argentina's Microwave Observation Satellite, the SAOCOM 1-A, will be shipped later this month to Vandenberg Air Force Base in California for a launch that is scheduled for September. The satellite, designed and built by INVAP, will contribute to a number of tasks according to CONAE spokesperson Josefina Peres.
With an expected operational life of 5.5 years, the satellite will orbit some 620 km above the Earth's surface and will collect data that is useful for agriculture, fishing, mining, geology, urban development and disaster management. And, according to Peres, the SAOCOM will be capable of capturing 500 images as it orbits 15 times a day. The satellite's mission, Peres said, will focus on two aspects: measuring soil humidity in the Argentine Pampas, or lowlands, as well as detecting and helping to manage natural and human disasters, such as floods, landslides, oil spills, fires, earthquakes and volcanic eruptions.
Once on orbit, the satellite will mark CONAE's fifth space mission as it joins the country's two prior orbiting satellites — ARSAT-1 and ARSAT-2 — which were built by Argentine satellite maker ArSat and launched in 2014 and 2015, respectively.
SAOCOM 1-A features six computers that work in synchronicity and weighs some 3,000 kg. Its antenna, designed in central Cordoba province, is composed of 140 smaller antennas. As many as 600 Argentine professionals have been working on the $500 million-satellite since 2011.

SAOCOM 1-B is expected to be launched in 2019, followed by another two satellites as part of the SAOCOM 2 series, which will have the experiences collected from the first mission built in. Both INVAP and CONAE have ample experience in designing satellites and in space missions, as they developed the SAC-B, SAC-A, SAC-C and SAC-D AQUARIUS satellites.
CONAE (Comisión Nacional de Actividades Espaciales) is the national space agency of Argentina and has a mandate to design, manage and execute space-related projects and activities for peaceful purposes, under the scope of the Ministry of Foreign Affairs and Worship.
CONAE's actions and projects are developed according to the National Space Program, which is periodically updated and extended to ensure that the missions suit the socioeconomic and productive requirements of the country. The 2004-2015 issue of the Program is in force and currently a new revision of is being developed for the period 2013-2024.
Argentina´s Space Program includes three satellite series: SAC, SAOCOM and SARE. Since its creation, CONAE has placed four satellites into orbit: SAC-B, SAC-A, SAC-C and SAC-D/Aquarius.