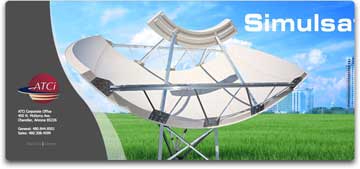 Revolutionary efforts sometimes reap great rewards, and so it goes with Antenna Technology Communications Inc. (ATCi), which designed and implemented a revolutionary digital broadcast system designed for local a channel and/or DMA extension system that ultimately saves cable and broadcast companies millions of dollars per year.
Historically cable companies and broadcasters have transmitted local channels via traditional microwave tower to tower technology, however through the advent of MPEG-4/DVB-S2 and H.264 technology, ATCi was able to design and implement a
custom system enabling cable operators who commonly provide cable television, telephone and high-speed Internet services to designated market areas (DMA's) the ability to transmit HD programming via MPEG-4 over satellite.
  They can then trans-code the signal through their legacy MPEG-2 format thus allowing them to ultimately deliver the signal to their existing set top boxes.
By compressing the signal to MPEG-4, cable operators are now able to economically offer HD channels to all of their extended DMA's by utilizing this leading edge construct.  By utilizing this next generation MPEG-4 technology coupled with DVB-S2 uses approximately half the bandwidth while providing double the data throughput which translates into a tremendous cost savings.
"
We love this technology
," said
Gary Hatch
,
ATCi's CEO
.  "Instead of using the traditional two transponder solution to distribute (10) HDTV local channels throughout a traditional DMA,
we have been able to provide services direct to translators and headends
.  This cost savings really allows all communities to receive equal services," Hatch concluded.
ATCi, originator of
Simulsat™ Multibeam
antenna, expanded its broadcast services division in 2000, to include a platform focused solely on providing cost-effective digital broadcast uplink solutions which include local channel offerings.
In addition to broadcasting local channels for cable operators, ATCi also specializes in broadcasting thematic channels and webcasting
. 
With these broadcast applications, ATCi provides all the RF equipment and installation services for the uplinked channels from a network of uplink facilities. 
ATCi handles the daily engineering, origination, playout, ad-insertion, automation, customer service and monitoring support to ensure the channels are successfully received by the extended DMA locations
. 
ATCi will be exhibiting its products and solutions at
NAB, April 20-23 in Las Vegas, Booth #C5343.