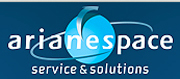 The Soyuz for Arianespace's first mission of 2017 from the Spaceport in French Guiana is now complete, following the launch vehicle's "topping off" with the Hispasat 36W-1 telecommunications satellite.
Integration of Hispasat 36W-1 occurred in the mobile gantry on the Spaceport's ELS launch pad, with this three-metric-ton-category relay platform encapsulated in Soyuz' ST-type payload fairing along with the Fregat upper stage. All is now ready for the final checkout and the Launch Readiness Review, which will clear the way for a January 27 nighttime departure of the medium-lift mission, designated Flight VS16 in Arianespace's launcher family numbering system.
Hispasat 36W-1 is the initial telecommunications satellite to use a SmallGEO series platform, developed under the European Space Agency's (ESA) Advanced Research in Telecommunications Systems (ARTES) program. The platform was designed and manufactured by Germany's OHB System AG.
After reaching the 36 degrees West orbital position, Hispasat 36W-1 is to be operated by Hispasat, a world leader in Spanish and Portuguese broadcasting, providing relay coverage and multimedia services for continental Europe, the Canary Islands and South America. Flight VS16 will be the 16th liftoff of a Soyuz since its 2011 introduction at the Spaceport, and marks launcher's first mission to geostationary transfer orbit (GTO) from French Guiana.
The mission's nominal duration is 32 minutes, 10 seconds, with the liftoff set at exactly:
* 22:03:34, local time in French Guiana on January 27
* 01:03:34, Universal Time (UTC) on January 28
* 02:03:34, in Paris on January 28