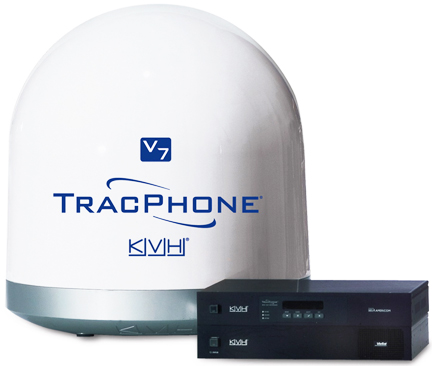 DSD Shipping AS of Stavanger, Norway, is the latest commercial maritime operation to take advantage of the broadband access and affordable service offered by KVH Industries, Inc. (Nasdaq: KVHI) via its compact TracPhone® V7 satellite communications system and the mini-VSAT Broadband(sm) service.
DSD Shipping
recently completed a successful trial on the
Stavanger Viking
and is now moving ahead with the installation of KVH's 24-inch (60 cm)
TracPhone V7
antenna on its nine remaining vessels.
Once all the installations are complete, DSD Shipping crew members will enjoy multiple voice lines along with broadband Internet, email, and data access onboard as they travel throughout the mini-VSAT Broadband network's expanding global coverage area. DSD Shipping decided to bring KVH's mini-VSAT Broadband solution onboard in order to expand Internet use for business applications without increasing costs. Thanks to its full compatibility with
Dualog
® software, the TracPhone V7 solution also allows DSD Shipping to continue to benefit from their existing
Inmarsat
systems and service. This solution makes it easy for crew members to use a wide variety of applications in a cost effective manner by balancing the best features of the mini-VSAT Broadband and Inmarsat services. By using mini-VSAT Broadband throughout the expanding global coverage area, DSD Shipping saves enough in service charges each month to completely cover the cost of their TracPhone V7 hardware lease.
To ensure that installation expenses also remained as low as possible, DSD Shipping arranged to have the TracPhone V7 installed by
Can Traders
, one of KVH's certified partners in Singapore, while the
Stavanger Viking
was in port there, and Norwegian distributor
Polaris Norway
and a local Norwegian dealer,
IKM Instrutek
, managed the project and the sales process.