Euroconsult has published their latest analysis and report, "Prospects for Maritime Satellite Communications, 6th Edition."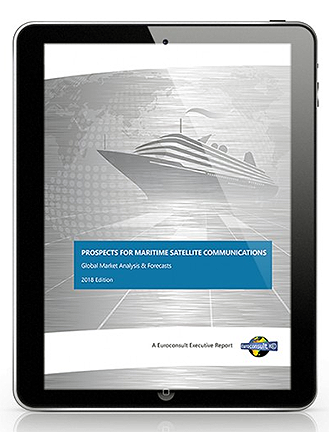 The report includes sector dynamics, analysis and forecasts for the maritime SATCOM market and includes both PDF and Excel files. The report highlights include..
Total revenue for satellite operators should grow from $953 million in 2017 to $1.6 billion by 2027 (10-year CAGR of 5.2%)
The revenue for maritime service providers is estimated to grow from $1.8 billion in 2017 to $2.9 billion in 2027 (10-year CAGR of 5.3%)
The VSAT market on its own, experienced a significant growth of 18.8%, exceeding 23,000 terminals in 2017
Despite the rapid growth of the VSAT business, MSS operators still control over 93% of the maritime satellite installation base
HTS satellite capacity over oceanic regions will grow almost 10-fold from 2017 to 2020 to cater to the ever-growing demand
The maritime SATCOM market (both MSS and VSAT) will grow to more than 500,000 terminals in 2027 as compared to 337,300 terminals in 2017
Report contents include...
Comprehensive review of strategic issues and forecasts
Analysis of market dynamics and the value chain
Examination of major maritime market segments
Merchant shipping
Passenger ships
Leisure vessels
Fishing market
Offshore market — oil & gas

Also incorporated into the report are Excel data series and forecasts to 2027
Terminals by application and frequency band
Terminals by addressable markets
Satellite operators revenues by application
Satellite operators FSS capacity revenues by frequency band
FSS capacity demand by frequency, region, and market
Service providers revenues by application and frequency band
To learn more about this informative report, please access this direct infolink to download the PDF brochure...