[Satnews] Comtech Xicom Technology extends an invitation to their booth SU 3407 and OE1505 at NAB 2016 in Las Vegas, Nevada April 18-21, 2016, to see the latest innovations in high power SATCOM amplifiers. From gateways to tactical military, from ground to airborne, Xicom offers an array of SATCOM TWTA and SSPA products including: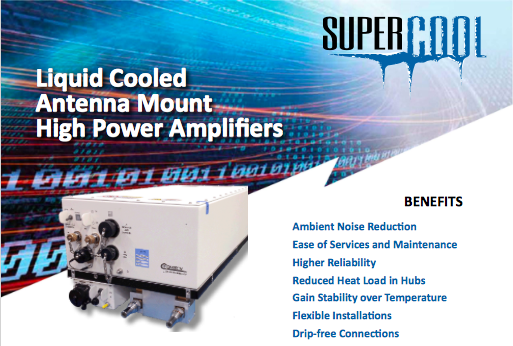 Most efficient Ku-band 400W and 750W peak TWTAs available
SuperPower™TWTAs with the highest power and greatest
efficiency anywhere
Continuous Power Systems (CPS) for high output RF power with no
down time
SuperCool™ liquid cooling technology available in all high power
products
At NAB, there will be demonstrations showcasing the new SuperCool technology that integrates customized baseplate cooling channels and plug-n-play, drip-free connectors to ensure no leakage or mess on electronics or in hub. Its many practical advantages over traditional air-cooled amplifiers for C-, X-, Ku-, Ka- and DBS-band uplinks include:
reduced hub heat load
more compact, flexible installation
no hub ducting or high-maintenance, low-reliability air conditioner
no fin or fan maintenance on hub HPAs
constant temperature for gain stability and higher reliability
elimination of HPA fan noise
Download the PDF Data Sheet.