[Satnews] As second-generation MSS constellations and powerful GEO-HTS and non-GEO HTS launch, the land-mobile satellite market is on the verge of taking major steps forwards.
NSR's Land-Mobile & SNG via Satellite, 3rd Edition (LMSvS3) report offers industry leading analysis of this dynamic industry and the projected global growth for both MSS and FSS as well as the new GEO-HTS and non-GEO-HTS mobility markets. LMSvS3 offers the industry's widest range of analysis and forecasts for in-service units, equipment and service revenues, as well as capacity demand for land-mobile satellite-based mobility.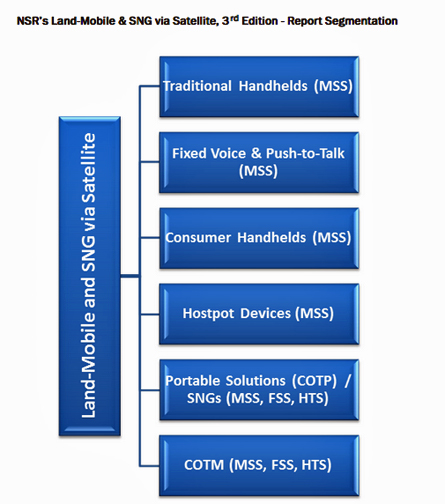 This new NSR report includes extensive analysis of addressable markets, operator market share, vertical segment forecasts, pricing, in-service units and revenue. The report takes an in-depth look at land-mobile services for both voice and data, and offers a complete assessment and forecast of commercial bandwidth and capacity demand for all regions over the next ten years.
The report answers critical questions regarding land-based satellite mobility:
What are the key trends impacting land-mobile via satellite markets?
What are the new form factors driving end user uptake, and what is their impact on current and traditional offerings?
What new solutions are emerging, and how are they expected to fare? Are there game-changing solutions on the horizon?
Which markets & segments will show the most uptake for in-service units and revenues for each segment by type of service (MSS, FSS, HTS)?
Are there new and untapped opportunities to target, and which ones are the most important?
How will the GEO and non-GEO HTS impact the traditional land-mobile market for both MSS and FSS operators?
How much demand for satellite capacity for each region over the next ten years?
What is the market share of operators for the MSS market and the traditional satellite handset business?
How will the entry of HTS impact the migration of voice and data communications services across all markets?
Will there be further industry consolidation?
Bottom Line: How does NSR see the Land-Mobile and SNG via Satellite market evolving in the next 10 years for each region and for each market segment?
Land-Mobile & SNG via Satellite, 3rd Edition offers a completely updated assessment of superior value with hundreds of graphs and thousands of data points to help guide readers in their examination of land mobile demand trends by region and globally. The report analyzes the trends that drive growth and the changes that will take place in the satellite land mobile market in the coming decade.