The Oil & Gas industry has been struggling to recover from a terrible downturn, and the ripple effect also creates a challenge to the satellite operators and numerous other support industries.
It is no big secret that satellite communications players in the Energy market have been hit hard, from service providers all the way up to satellite operators. Between the 'if-it-ain't-broke' mindset prevalent in the Oil & Gas industry to the US Government purchasing a keg's worth of capacity one-pint-at-a-time, each market has run up against funding pressures that are causing rapid (so-to-speak) changes in the way satellite communications are designed, acquired, and utilized.
Just as sequestration put a major dampener on revenues for Gov & Mil SATCOM markets, crude-oil pricing has caused a readjustment across the energy sector. With the cost to produce above to well-above the current market rate for a barrel of oil in some major producing regions, upstream oil and gas companies particularly have been forced to look at new and innovative ways to operate. Introduce more technology in more places to get more data to enable quicker decisions, and that will help lower cost of extraction/production—in other words: 'big data.' In Gov & Mil Markets, ISR (Intelligence, Surveillance, Reconnaissance) is the 'big data' thrust of recent years. Central to both is building the infrastructure and networks to keep all sites communicating with each other.
However, the industry cannot connect what does not exist and just as Gov & Mil markets saw declines after the troop withdrawal from the Middle East, rig stacking and vessel idling in the Oil and Gas industry has similarly impacted the key segment of the Energy markets. Nowhere is this stronger than in a comparison between FSS capacity demand in Gov & Mil and Oil & Gas markets. Looking historically since 2010, Gov & Mil markets saw 'peak FSS Capacity' in 2013—when the US Troop draw-down in the Middle East and sequestration took their respective toll. For Oil & Gas, 2015 was the year in which 'peak FSS capacity' occurred, driven by the widespread cold-stacking of rigs and idling of Offshore Support Vessels across the major oil plays.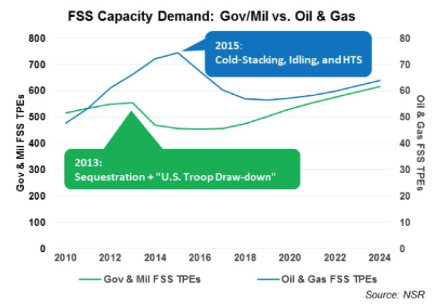 While NSR does project in its Government and Military Satellite Communications, 12th Edition report an eventual return to growth in-line with 2013 trends for FSS capacity, FSS capacity for the Oil & Gas Industry is not expected to recover in the foreseeable future. Why the difference? For Oil & Gas, a quicker, deeper integration of HTS-delivered services will reduce the longer-term opportunity for FSS. Already, O3b is disrupting connectivity to larger deep water plays, while EPIC, GX and the host of other GEO-HTS offerings will prove similarly disruptive for other segments of the Oil & Gas market.
Bottom Line
Although challenges persist in the Energy markets, as NSR highlights in its Energy Markets via Satellite, 6th Edition report, opportunities still exist for those market players willing to look for them. Some come in the form of contract renewals such as Harris CapRock's renewal of Transocean or through new wins such as ITC Global's "New Offshore Energy Services Customer." However, the underlying theme for almost all of these announcements is innovation—either innovation in terms of the business model for Harris CapRock's single, global pricing point for Transocean or technical/service orientated with ITC Global's Crew Welfare-centric application.
Another core part of this innovation? The steady transition towards HTS. For Oil & Gas, the market has broken, and now is the time for satellite communications players to provide solutions to fix it.