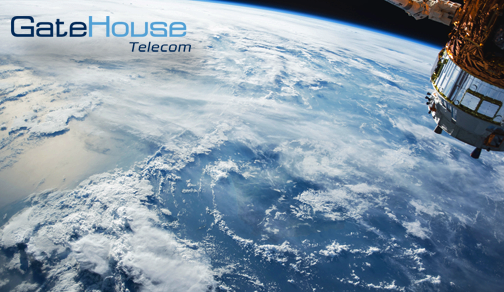 Lars Christensen, the Chief Architect at GateHouse Telecom, explains that the basic characteristics of satellite IP communications differ from a typical fiber, cable or ADSL internet connection.
Satellite links provided with geostationary satellites have significant latencies of 480 milliseconds and upwards. The variation in how long it takes data to get through is typically high (jitter) and throughput is dependent upon effective buffering mechanisms and buffer size in order to obtain expected bandwidth.

Satellite bandwidth itself is limited (hundred-of-kilobit to megabit-range) and is typically shared with other users. A connecting user may strike gold and have a channel all to himself, but more likely they will end up in a network that's congested and only get a fraction of expected bandwidth. Worse, they might not get a service at all.

When validating and testing solutions using satellite communications, the uncontrollable and sometimes unpredictable conditions of a live satellite service can be problematic. Emulation of the satellite link gives you full control of test or demo conditions. A terminal or solution performs just as it would in a live scenario, but is defined by the conditions that have been set up for the test. Test conditions can be set up on-demand, allowing the user full control over the choice of service plan and network conditions such as weather fades and congestion conditions.

Testing or demonstrating on-air entails a great deal of preparation. Setting up and connecting a satellite terminal is fairly easy, but not trivial, and users have to be aware of satellite pointing, service costs, and external factors that may affect them such as weather fade or network congestion. Emulating the satellite link eliminates the need to use expensive air-time, setting up test beds and travelling, and it also eliminates the complications caused by the large number of uncontrolled parameters including weather fade and congestion conditions.
However, the main purpose for off-air testing is not to eliminate the factors of weather fade, congestion etc., but to gain complete control over the conditions for a test or demo. A typical example of this being beneficial is when a solution is demonstrated to a customer to prove functionality and stability — you can then stress test your solution to show how it handles errors or challenges such as latency, jitters, and much more. A controlled and reproducible test environment furthermore makes it easier to identify the source of a problem as you can perform the same test repeatedly under the exact same conditions.

Off-air testing of a terminal or solution in a lab is an efficient way to obtain more robust and better performing products. With a world that is constantly in search of ways to secure and guarantee connectivity and up-time, wherever and whenever – off-air testing is integral to satellite communications.
Lars Christensen, M.Sc.C.S, is an experienced BGAN engineer and Chief Architect at GateHouse Telecom A/S. Christensen's main areas of expertise are system architecture, computer system design and development, particularly within computer networking, including TCP/IP, satellite communications (Inmarsat BGAN) and UMTS.

GateHouse Telecom A/S is a wholly owned subsidiary of the GateHouse Holding Group. For more than a decade, the company has provided the satellite communications industry with a range of market-leading BGAN testing and software products for commercial, government and military use. Of the estimated 120,000 active terminals today, approximately 50 percent use GateHouse software. The firm's first offering to the GX market is its Global Xpress Link Emulator (GLE). With deep knowledge and understanding of global communications infrastructures and platforms, GateHouse Telecom also offers consultancy services for software, hardware and system integration as well as for the preparation and evaluation of international tenders.