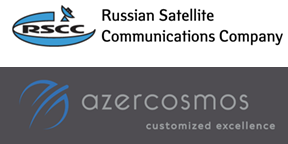 Earlier this month, Russia's satellite communications operator — Russian Satellite Communications Company (RSCC) — and Azerbaijan's satellite communications operator Azercosmos signed a cooperation agreement pertaining to satellite communications and broadcasting services in Baku, Azerbaijan, as part of the international telecommunications and IT show BAKUTEL 2019.
The agreement is aimed at joining the efforts and making arrangements for the collaboration of both Azerbaijani and Russian operators in the domain of creation and development of satellite communications and broadcasting networks for a variety of economic and public administration sectors in Europe, the Middle East, Africa as well as in Russia and Azerbaijan.
To that end, it is planned to use the potential of spaceborne satellites Azerspace 1, Azerspace 2, as well as RSCC's Express AM series satellites, which offer coverage of the aforementioned regions, including the CIS countries.
Kseniya Drozdova noted that this agreement is a reasonable continuation of the strengthening of trade and economic relations between Russia and Azerbaijan, and its execution derives from the current situation in the global satellite market. It is especially noteworthy that their partnership goes well beyond purely regional cooperation in the Caspian Region. RSCC and Azercosmos have been successful for many years in the markets of Europe, the Middle East, and Africa. The amalgamation of efforts of the two national satellite operators also opens up the potential for a new page in Russian-Azerbaijani cooperation, namely the creation of a joint export application for foreign consumers.