[SatNews] Global connectivity for smartphones and tablets is today a reality...
Global connectivity for smartphones and tablets is today a reality with the worldwide launch of IsatHub from Inmarsat, provider of global mobile satellite communications services.
IsatHub features the highest data rate of any equivalent mobile satellite service with standard IP data of up to 240/384kbps (send/receive).
The revolutionary IsatHub service means that anyone can surf the Internet, access their apps, text or talk using their own iPhone, iPad, iPod Touch or Android smart device, even when they're thousands of kilometers from a terrestrial fixed or mobile network.
Simple to access—Accessing the IsatHub service is quick and simple using the Wideye iSavi terminal from AddValue Technologies, which is approximately the size of a paperback book, and the IsatHub control app, downloaded from the App Store or Google Play. The user's smart device connects via Wi-Fi to the terminal and a choice of easy-to-use audio cues, LED guides or 'pointing assistance' in the control app enables them to line up rapidly with the satellite.
Once connected to Inmarsat's powerful 3G satellite network, the Wideye iSavi creates a secure, personal network with a range of up to 30m (100ft). The terminal will allow multiple authorised users to wirelessly use Isathub's voice and data services at the same time.
Downloading the IsatHub voice app provides access to its dedicated, high quality voice line and text messaging, even on devices that are 'Wi-Fi-only', such as an iPod Touch.
3G connectivity, anywhere—"IsatHub is about carrying your own smart device connectivity with you wherever you go," said Ronald Spithout, President of Inmarsat Enterprise. "You could be exploring for oil in the middle of a desert; a journalist tweeting breaking news from a remote island; or simply on holiday hundreds of kilometers from the nearest cellular coverage. For all these situations, you can now be assured of a 3G service for your smartphone or tablet."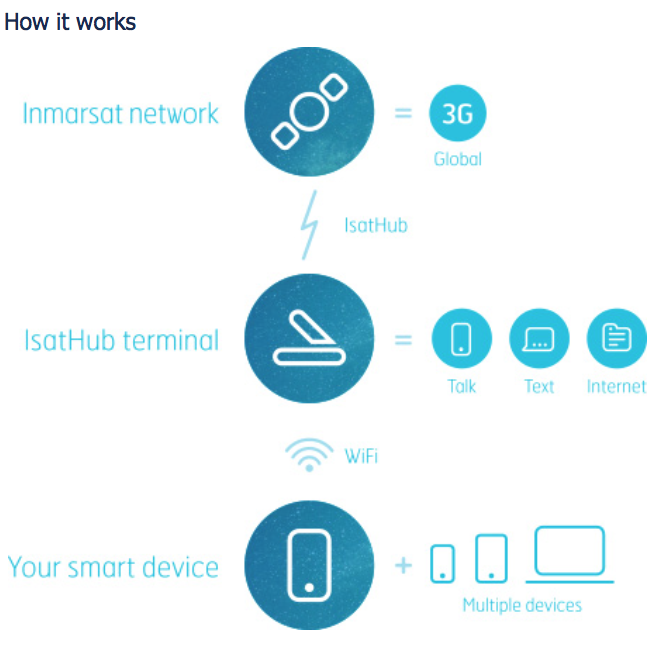 IsatHub connectivity, coupled with the Wideye iSavi's compact, lightweight design, provides an assured 3G service in regions that have no or very poor mobile signal, and also in areas much closer to home, such as cellular 'blackspots'.
Reliable, award winning network—IsatHub is delivered through the award-winning Inmarsat-4 (I-4) satellite constellation, which is used by governments, businesses, broadcasters, humanitarian agencies and many others, to deliver assured connectivity on land, at sea and in the air. The I-4 fleet of satellites operates globally with an average availability of 99.9 per cent.
A booming market for IsatHub—The adoption of smartphones and tablets is rapidly becoming universal; however, the terrestrial network infrastructure to carry this growing traffic can be much slower to appear and, in many regions, will not be economically viable to construct. By the end of 2014, it is estimated that there will be some 1.75 billion smartphones in the world1 with a quarter of the world's population expected to use a smartphone at least monthly by the close of the year2.
Worldwide sales of tablets grew some 68 percent in 20132, reaching over 195 million units2 - and are forecast to hit sales of 349.1 million units in 20153.
1 (source: http://www.emarketer.com/Article/Smartphone-Users-Worldwide-Will-Total-175-Billion-2014/1010536)
2 (source: http://www.gartner.com/newsroom/id/2674215)
3 (source: http://www.gartner.com/newsroom/id/2692318)