[SatNews] The Stockholm-based automobile-tracking startup will partner with the global m2m (Machine to Machine) communications enabler, using their Mobile Core to provide network connectivity and ePortal management for the Automile connected car platform.
Automile AB has built a telematics platform with the Internet of Things in mind, called Automile PRO, reinventing fleet management for businesses to connect with their car and driving data via a smart cellular based OBD II device, available in 53 countries. Automile PRO is essentially an electronic vehicle trip logger with insight analytics that gives businesses the tools to manage their fleets.
Automile Box, the hardware, is a 40x40x20 mm black box that plugs directly into the vehicle diagnostics OBD-II connector below the steering wheel. It requires no installation and can be used in models dating back to 1996. The box collects information on driver behavior, engine parameters, location, and faults and connects to the Automile Cloud through the local available GSM (Global System for Mobile Communications) networks.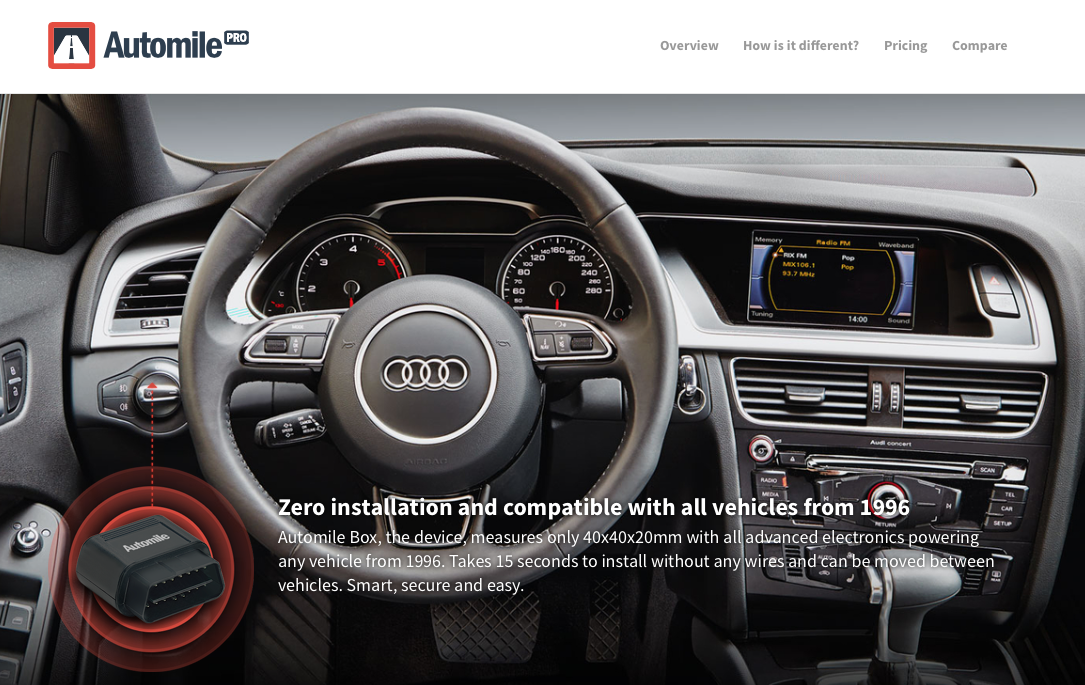 Telit operates business unit Telit Automotive Solutions delivering automotive-grade products like the Automotive On-board Platform (ATOP) and services to auto manufacturers and tier-one auto suppliers; and business unit Telit GNSS Solutions reaching M2M and beyond, delivering geopositioning products to the broader electronics and OEM markets.
"We are delighted to have been chosen by Automile to make their connected car platform a strong and reliable, enterprise-grade communication platform between businesses, drivers, and their vehicles in over 53 markets," said Telit m2mAIR Mobile Global Sales Manager Sander Mulder, "while supporting the richness of their product creativity and speed of development to make Automile the connected car platform of reference. By utilizing our unique portfolio of value added services, Automile has been able to increase its serviceability level while extending its offering with new differentiating set of capabilities."
Thanks to the flexibility of Core rate plans and the simplicity of the ePortal subscription management tools, Automile had the competitive advantage to close a deal for its connected car platform with a leading international car manufacturer valued at more than US $4 million in the first year. The agreement follows another milestone deal closed earlier this year with leading aftermarket auto parts provider, reinforcing the offering's value and product differentiation in the fleet management market.
The Swedish startup has been through an extended market assessment of m2m technology providers and selected Telit for the technical superiority of its m2mAIR Mobile offering, together with its understanding and flexibility in collaborating with high growth companies like Automile.
"Providing a proven and tailored-made m2m communication foundation," said Automile AB Co-Founder and VP Jens Nylander, "Telit, with its compelling m2mAIR Mobile services and deep understanding of our business DNA, has naturally positioned itself as the provider of choice for Automile."
For more information on Automile, please visit their website http://automile.io/pro/. For more information on Telit, please visit their website.