Christmas finally arrived early as the U.S. Air Force and its mission partners successfully launched the first Global Positioning Systems (GPS) III satellite on December 23 at 8:51 a.m. EST (13:51 UTC, 5:51 a.m. Pacific) from Space Launch Complex-40 at Cape Canaveral Air Force Station, Florida.

The Lockheed Martin-built satellite, known as "Vespucci" in honor of Amerigo Vespucci, the Italian explorer for whom the Americas were named, was carried to orbit aboard a SpaceX Falcon 9 Evolved Expendable Launch Vehicle, after previous launch attempts on December 18, 20 and 22 were thwarted by weather or technical issues.
GPS III's "Vespucci" separated from its upper stage at 10:47 a.m. EST (15:47 UTC, 7:49 a.m. Pacific), approximately two hours after launch. Engineers and operators at Lockheed Martin's Waterton facility will now begin on-orbit checkout and tests which are estimated to complete in six months. Operational use is expected to begin in about a year.
Vespucci will be vectored to augment the current GPS constellation comprised of 31 operational spacecraft. GPS satellites operate in medium Earth orbit at an altitude of approximately 20,200 km (12,550 miles) in six planes. Each satellite circles the Earth twice per day. GPS provides the "Gold Standard" of position, navigation, and timing services for billions of users worldwide. GPS III, the newest generation of GPS satellites. It brings new capabilities to users, including three times greater accuracy, and up to eight times improved anti-jamming capabilities.
The GPS III Vespucci team is led by the SMC's Global Positioning Systems Directorate, located at Los Angeles Air Force Base in El Segundo, California. Lockheed Martin Space Systems Corporation is the prime satellite vehicle contractor.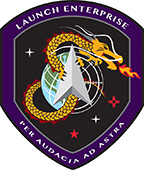 The launch was led by Space and Missile Systems Center's Launch Enterprise Directorate, and was on the SpaceX Falcon 9 launch vehicle at Cape Canaveral AFS.
U.S. Air Force Space Command's 50th Space Wing and 2nd Space Operations Squadron operates the GPS constellation from Schriever AFB, Colorado.
SMC is the U.S. Air Force's center of acquisition excellence for acquiring and developing military space systems. Its portfolio includes the GPS, military satellite communications, defense meteorological satellites, space launch and range systems, satellite control networks, space based infrared systems and space situational awareness capabilities.
As the U.S. enters a new era with the declaration of space as a warfighting domain, SMC is undergoing re-architecting as part of "SMC 2.0" efforts which will manage other significant U.S. acquisition agility initiatives that seek to build new partnerships with industry, allies, and DOD partners, in order to drive innovation within the space enterprise and speed the delivery of new capabilities to warfighters.
Executive and Command Comments
Lt. General John F. Thompson, Commander of the Space and Missile Systems Center and Air Force program executive officer for Space, said that launch is always a monumental event, and especially so as this is the first GPS satellite of its generation launched on SpaceX's first National Security Space mission. As more GPS III satellites join the constellation, it will bring better service at a lower cost to a technology that is now fully woven into the fabric of any modern civilization. It keeps GPS the gold standard for positioning, navigation, and timing information, giving assured access when and where it matters. This event was a capstone, but it doesn't mean we're done. The USAF is going to run a series of procedures for checkout and test to ensure everything on Vespucci functions as it was designed."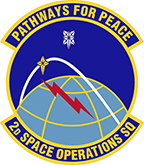 Colonel Steve Whitney, director of the GPS Directorate, stated that this launch could not have succeeded without the teamwork of dedicated professionals. This launch is the beginning of the GPS III era, bringing greater capabilities for the nation's military and civilian users worldwide.
Colonel Robert Bongiovi, SMC Launch Enterprise director, added that the first GPS III launch marks a significant milestone for the GPS constellation as well as SMC's partnership with SpaceX. This launch demonstrated the successful teamwork and cooperation among all mission partners to deliver the capabilities the nation's warfighter demands.