The Defense and Intelligence Systems Division (DISD) of Hughes Network Systems, LLC (HUGHES) has reported that they have been awarded a contract by General Atomics Aeronautical Systems, Inc. (GA-ASI).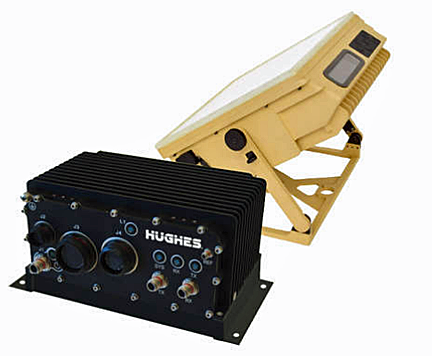 Hughes will work with GA-ASI to provide SATCOM on the "Type-Certifiable" Predator® B (TCPB) Remotely Piloted Aircraft (RPA) system, which provides the basis for the United Kingdom's Protector program. A variant of the proven multi-mission Predator B, the new SkyGuardiantm aircraft will provide a next-generation capability, integrating enhanced safety and reliability systems that will enable RPA flight within civilian airspace, along with an increased payload capacity that will support a wide variety of mission sets.
Working with GA-ASI, Hughes is upgrading the aircraft's SATCOM system with customized airborne Hughes HM series modems. The advanced modems will enable a significant increase in data transfer rates, employing an enhanced waveform that ensures resilient and secure communications when operating in challenging environments. The new aircraft is designed to be compliant with NATO and UK airworthiness requirements, supporting easy integration into segregated and non-segregated civil airspace operations around the world. The SkyGuardian RPA expects to meet initial European certification standards this year.
Rick Lober, the Vice President and General Manager of Hughes DISD, stated that with the development and supply of the firm's customized HM series modem, aircraft operators and mission personnel will experience the benefits of protected SATCOM, which includes the flexibility to employ the most appropriate frequencies for Beyond-Line-of-Sight (BLoS) communication.

An announcement by Hughes Network Systems, LLC (HUGHES) reveals the debut of HughesNet® Gen5, the first and only US satellite Internet service to offer Federal Communications Commission (FCC) defined broadband speeds—25 Mbps download and 3 Mbps uploads —from coast-to-coast.
When live as of March 16, 2017, HughesNet Gen5 will deliver faster speeds, more data, and built-in WiFi for consumers and small businesses across the entire continental US and key areas within Alaska. HughesNet Gen5 will be powered by the Hughes JUPITER™ System, the most widely deployed satellite networking platform globally, operating over EchoStar XIX, the world's highest-capacity broadband satellite, as well as EchoStar XVII currently in orbit.
HughesNet Gen5 is available in a variety of affordable consumer and business plans to suit customer's specific requirements, featuring from 10 to 250 GB/month of data, and all with download speeds of 25 Mbps and upload speeds of 3 Mbps. Additional features include:
Built-in Wi-Fi to connect wireless devices
No hard data limits—if monthly plan data is exceeded, service continues at a reduced speed until the next billing cycle
Video Data Saver to watch more videos using less data
Bonus Zone—50 GB of free data per month to use during off-peak hours (2:00-8:00 a.m.)
Pradman Kaul, the President of Hughes, reported that HughesNet Gen5 builds on the success of America's #1 satellite Internet service—with more than one million subscribers and rated by the Federal Communications Commission (FCC) as the nation's leading ISP in delivering on advertised speeds (ref : "2016 Measuring Broadband in America" report )—bringing the many benefits of high-speed Internet to people everywhere across America, no matter where they live or work.