High passenger expectations for quality inflight connectivity (IFC) at the correct price are still front and center and the road to success in providing it remains a long and winding path — many positive signs point to more decisions from airlines to adopt better IFC solutions in this most visible SATCOM growth market; but it is still a difficult road to fulfill the promise it has held for many years now.
Measured Success
NSR's Aeronautical Satcom Markets, 5th Edition report found passenger behavior on the ground eventually drives installation of IFC onboard aircraft and that connectivity will be on two out of every three commercial passenger aircraft by the end of 2026, generating over $3 B by the end of 2026.
Combined aircraft deliveries by both Boeing and Airbus were 1,436 last year, and both upped their backlog and orders, as well as their aircraft demand forecasts (approximately 35,100 airframes in the next two decades). Concurrently, IFC take rates were up for ATG and FSS Ku-band, and deliveries as well as contracts of HTS service shot through the roof as free Wi-Fi was introduced on more planes, mainly in North America. Revenues for broadband satellite IFC last year inched up another $150 million, close to 40% more than in 2015, which was just below expectations.
Charting Challenges
Not all is easy, however, and challenges remain. With 550 ATG units to be de-installed in the next few years, American Airlines' set GoGo back to the tune of 23 percent of its revenues, which it will need to replace in the next few years. To offset this loss in the mature North American market, where insufficient bandwidth (quality of service?) to planes is a showstopper for many airlines, higher bandwidth HTS service such as 2Ku, Exede-in-the-Air and Global Xpress will gradually take center stage as more customers jump to higher throughput satellite capacity.
However, will additional capacity solve the revenue picture for everyone? Lack of developed technology such as better performing, lower weight flat panel antennas, high barriers to entry due to infrastructure costs, and finding the best business models for the majority of airlines remain obstacles to profit-making in the IFC sector.
Currently, the model seeming "best" to offset the current hesitancy of airlines to engage in offering fleet-wide IFC services is where "winning" an airline means service providers paying for all hardware/installation/operations and utilizing a service revenue split. Free items for airlines typically include hardware, installation and network operations, while service revenues are split with the majority for the service provider and about 20-25 percent going to the airline. The satellite industry stands to gain significantly from this model, but it will have to generate sizeable revenues in the face of fading capacity prices to recoup these large investments. Fortunately, opportunities abound moving forward.
Good News is…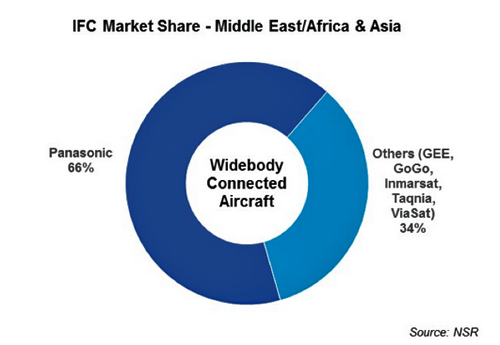 A near doubling of the addressable market with Asia offering the fastest growth, followed by the Middle-East and Africa (MEA) regions, offers bright perspectives for IFC players. These two regions have the highest annual growth for passenger traffic, and NSR noted that Asia has become the region with the most airlines connected, and together with the MEA, these represent 60 percent of all airlines with connectivity at the end of 2016. What is this built on? By looking at the lead provider, Panasonic, in terms of contracted aircraft (50 percent of the Asia and MEA installed base), we see a large share of wide-body aircraft — 80 percent — for long-haul routes usually and an expanding coverage zone in these areas.
For other established markets, such as Europe and North America, the SATCOM IFC market is in a three-way tie between ViaSat, GEE and GoGo, which will probably filter down to enabling higher throughput, more narrowbody contracts and HTS capacity.
Bottom Line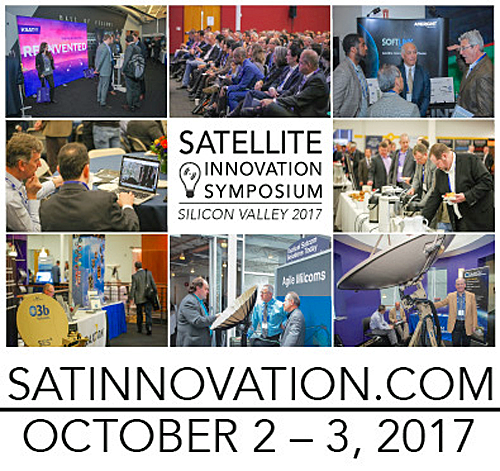 The future of IFC may give different growth patterns, especially as GEO-HTS capacity across Ku- and Ka-band comes online with double-digit annual revenues and in-service unit growth rates expected. The success path may not be straightforward here where one particular type of aircraft, a certain footprint over flight paths and traffic numbers all equal booming business. But there is a visible progress pathway that can help the industry push in-flight connectivity service to its expected heights.