In this "brave new world of satellites," as described by NSR, the financial metrics of the companies involved in this industry are of interest to just about everyone engaged in SATCOM and MILSATCOM business ventures.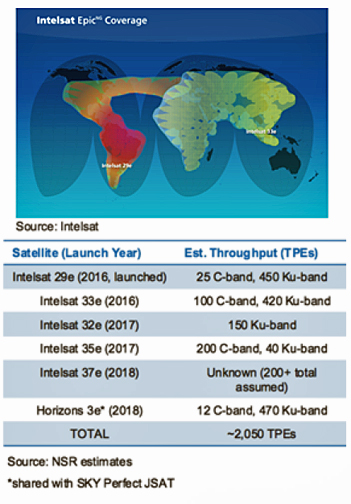 NSR's upcoming Satellite Operator Financial Analysis, 6th Edition (SOFA6) offers readers the financial metrics of satellite operators across the globe. SOFA6 combines all reporting satellite operator financials with NSR's analysis and library of research to provide metrics such as cost and revenues per leased transponder, average age of satellite fleet and more. NSR's SOFA6 assesses the financial health of all major FSS and MSS operators, and ascertains their likelihood of succeeding in this brave new world of satellites offering hundreds of Gbps.
The satellite telecom industry is in the midst of a paradigm shift, with GEO-HTS having become the norm and FSS being seen in many cases, correctly, as not cost competitive. This shift allows satellite operators to compete for, as well as complement, terrestrial offerings and thus account for a bigger piece of the telecom pie, with falling costs per Mbps to market and, perhaps more importantly, a dramatic reduction in the "CAPEX per Mbps to orbit" metric. SOFA6 provides a comprehensive understanding of where operators stand in relation to this changing market dynamic.
SOFA6 answers questions such as:
Which operators present the most logical HTS business cases?
How does GEO operator involvement in Non GEO-HTS stack up?
Which operators have the most exposure to markets threatened by oversupply?
Can operators see improved cash flows even with declining revenues?
Will vertical integration and consolidation continue, and in what forms might this occur?
What are operators likely to do with the cash hoard that is quickly developing in the industry?
Bottom Line: Which operators are most likely to prosper?
To take a look at this report's Table of Contents, please access this direct link...