The Aerospace Corporation's Center for Space Policy and Strategy (CSPS) has released two papers that are part of a new "Game Changer" series — this new publication series provides valuable insight into new and emerging breakthrough technologies that could introduce significant advancements and portend transformative implications for the space sector.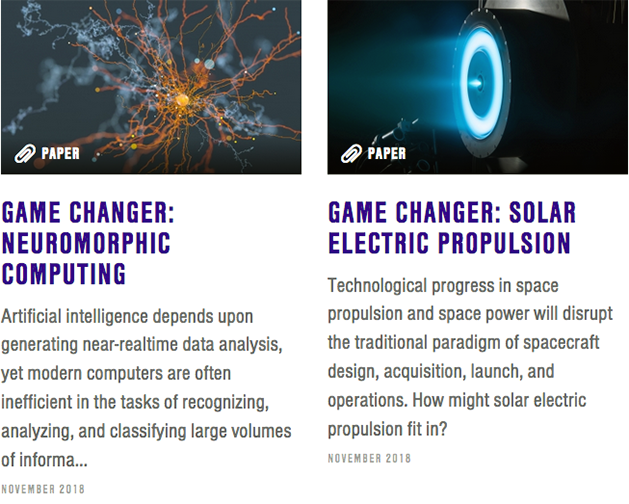 The first paper, Neuromorphic Computing: The Potential for High-Performance Processing in Space, focuses on the latest developments in neural processing units, which mimic certain functional aspects of the human brain. The brain-inspired architecture enables autonomous analysis of a vast array of incoming information from multiple sources, data retention in case of power loss, and reduction of power consumption.
Authors Dr. Gennadi Bersuker, Dr. Maribeth Mason and Karen L. Jones explain that neuromorphic computing has demonstrated the potential to overcome constraints on power and speed to enable autonomous sensing and intelligent operations without internet connections. "Neuromorphic computing will eventually prove to be a game changer for edge computing capabilities and space is the ultimate edge environment."
Bersuker said that he and the other co-authors assessed the neuromorphic computing market of hardware innovators in both the R&D and commercial sectors. "We also identified triggers that could advance or mature neuromorphic hardware from a technology demonstration phase to rapid growth and broader market adoption," he said.
Jones emphasized that there is no easy path to adopting neuromorphic computing in the space sector. "The successful introduction of neuromorphic computing to space systems will depend on the space sector's ability to "spin in" neuromorphic computing innovations from the commercial and the R&D sectors."
The second paper, Cost Reductions and Fuel Efficiency: High-Power Solar Electric Propulsion in Space, explores the impact of high-power solar electric propulsion (HPSEP) on the future of space from satellite acquisition and space architecture perspectives.
Authors Joshua P. Davis, John P. Mayberry and Jay P. Penn identified and assessed various types of space propulsion systems that could replace some or all of the traditional chemical propulsion systems used for orbit raising. The paper also highlights how HPSEP could significantly reduce launch capacity needs by allowing multi-manifesting of spacecraft or the use of smaller launch vehicles to lower launch costs.
"The HPSEP thruster and solar array technologies are poised to take electric propulsion from a technology relegated to stationkeeping and orbit maintenance duties," said Davis. "It has the potential to take over a significant portion of the orbit-raising function that is currently done by launch vehicle upper stages and chemical propulsion systems."
Executive Comment
Jamie Morin, VP and Executive Director for CSPS said that the company is pleased to offer the Game Changer series at a time when the space industry is undergoing rapid change. This new series provides factual and timely analysis of market trends, lifecycle, and technology triggers to advance maturity in the market.
To learn more, download both Game Changer papers from www.aerospace.org/policy.