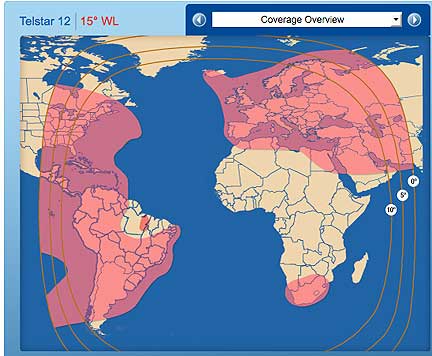 [SatNews] SatLink Communications Ltd. now has a partnership with Telesat to deliver...
...TV programming to Latin America on a new Ku-band MCPC DVB-S2 platform using Telesat's Telstar 12 satellite. This new service will provide international broadcasters the means to cost effectively distribute HD & SD channels from EMEA directly to the growing Latin American payTV market and to North American East Coast media ports. Located at 15 degrees West, Telstar 12 connects Europe and the Middle East to the Americas and supports Latin American payTV platforms and also carries local and international TV channels directly to broadcast markets in the Americas. The new DVB-S2 platform offers powerful wide beam coverage to Latin America and the East Coast of North America enabling a cost-effective solution for video contribution to these regions.
SatLink will also be exhibiting its capabilities, including its newly acquired HD Playout Centre, Asia, Africa and Latin American outreach, at IBC2012 in Amsterdam, 7th-11th September on Stand A.21 in Hall 5.