[SatNews] The fifth Arianespace Ariane 5 flight in 2014 has been given the "go" for its liftoff on Thursday, following a successful launch readiness review, which was conducted at the Spaceport in French Guiana.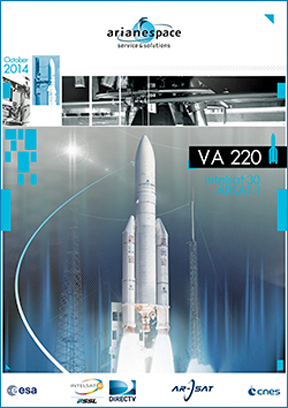 This milestone—which is held prior to each Arianespace mission—confirms that the heavy-lift launch vehicle and its payload are flight-ready, along with the Spaceport's infrastructure and the network of downrange tracking stations. With the "green light" given, Ariane 5 is now cleared for its rollout on Wednesday from the Final Assembly Building to the ELA-3 launch zone, where it will be readied for liftoff on October 16th during a 1-hour, 51-minute launch window that opens at 6:00 p.m., local time, in French Guiana. The payload lift performance for Arianespace's latest Ariane 5 flight is estimated at 10,060kg., which includes a combined total of approximately 9,305kg. for the two passengers—Intelsat 30, hosting the DLA-1 payload, and ARSAT-1—as well as the launcher's SYLDA dual-passenger dispenser system and satellite integration hardware.
To be deployed first during the 33-minute flight sequence, Intelsat 30 was built by SSL (Space Systems/Loral) for long-time Arianespace customer Intelsat. The spacecraft will operate from an orbital position of 95 degrees West after its deployment by Ariane 5, and is to greatly expand direct-to-home entertainment offerings in Latin America, as well as provide backup and restoration services.
The milestone first geostationary satellite built in Argentina—ARSAT-1—will be released second in the sequence, after which it is to operate from an orbital position of 71.8 degrees West. ARSAT-1 was produced by the company INVAP for ARSAT (Empresa Argentina de Soluciones Satelitales Sociedad Anonima), with Airbus Defence and Space and Thales Alenia Space serving as leading equipment suppliers. Once in orbit, it will deliver a wide range of telecommunications, data transmission, telephone and television services across all of Argentina, Chile, Uruguay and Paraguay.
Arianespace's October 16 mission is designated Flight VA220 in the company's launcher family numbering system.
Follow Arianespace's launch activity at: http://www.arianespace.com.