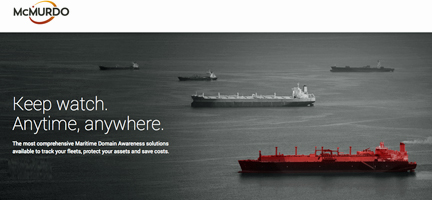 [SatNews] McMurdo Group has announced that its fleet management software platform is now available worldwide for partners to integrate into their existing maritime applications and solutions.
The McMurdo Group software platform, the most widely used vessel tracking and fleet management software in the U.S. commercial maritime market, will be demonstrated at the V-Tracks Vessel Tracking and Monitoring Conference in London (Radisson Blu Portman Hotel), February 27-28.
The platform provides partners with a robust suite of vessel tracking, two-way messaging, asset/document management and Automatic Identification System (AIS) display capabilities that enables end customers—owners and operators of inland waterway transportation firms, coastal workboat companies and commercial fishing fleets—to run their companies more efficiently, safely and profitably.
Irwin Rodrigues, President, McMurdo Group MDA Solutions, said, "To simplify application integration and development, the software platform has been built with a rich set of APIs, a highly customizable user interface and extensive configuration options. These partners can now easily enhance their current fleet management offerings with additional functionality such as AIS integration, forms processing and man overboard alerts to further help their customers streamline operations, manage assets and save lives."
McMurdo Group's fleet management software platform is a web-based messaging and mapping software platform which allows the visual management of a fleet with two-way communications, giving operators maximum flexibility in managing their maritime operation. It is part of the Group's comprehensive portfolio of SAR and MDA solutions which also includes distress beacons, satellite connectivity infrastructure and emergency response communications. Key software features include:
Integrated interface with vessel tracking, two-way messaging and reporting
Asset, log and document management (including customized forms)
Automated reporting for billing, compliance and operations
Global AIS data feeds
Geo-fencing with alerts
Support for any global satellite or mobile communications platform
24/7 system monitoring and NOC features
APIs for seamless integration
For more information about McMurdo Group, its fleet management software platform and its comprehensive suite of SAR and MDA/AIS solutions, please visit http://www.mcmurdogroup.com/.