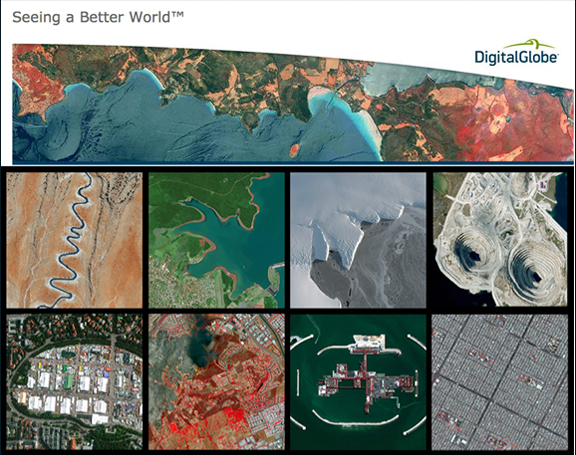 [SatNews] DigitalGlobe has come a long way since the first black-and-white satellite images of Earth were taken more than 50 years ago.
For DigitalGlobe's customers, imagery has become an indispensable asset for oil and gas companies seeking to discover new global energy sources, defense and intelligence agencies needing to plan and execute missions, and global development organizations charged with responding to humanitarian crises. For DigitalGlobe, 2014 was a big year, as the launch of WorldView-3 added capacity to our industry-leading constellation and enabled new capabilities for our government and commercial customers. As the year comes to a close, we've mined our vast imagery catalog for a selection of the top images captured by our constellation in 2014.
Please join DigitalGlobe and vote in the fourth annual Top Image contest. From the trillions of pixels captured by the company's satellites this year, they need your help to decide which image showcases DigitalGlobe's unique ability to solve important problems from space. Just follow these three easy steps:
Step 1: To vote, simply go to DigitalGlobe's Facebook page to see the Top Image 2014 album.
Step 2: Click through the images to learn about the different applications and industries we serve, and "like" the images that you think best showcase the value of satellite imagery—You have 10 days to vote, campaign for, and promote the images you would like to see in the top five. On December 19, we will announce the five images with the overall most "likes." The images will be added to a new album, Top Image 2014—Top 5 album, where you can "like" your favorite image.
Step 3: Follow DigitalGlobe on Twitter and Google+ to retweet and +1 your favorite images.
DigitalGlobe will announce the winning image in January. Access https://www.facebook.com/media/set/?set=a.10152960283921289.1073741830.132015741288&type=1 to vote!