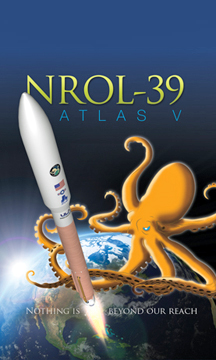 [SatNews] Another crucial launch is set for tomorrow, December 5th.
This launch is the NROL-39 (National Reconnaissance Office) and will see the satellite being propelled into space via a United Launch Alliance Atlas V rocket from Vandenberg Air Force Base in California. The current weather forecast reveals a 20 percent change of weather that would be favorable for a launch, so "stay tuned" for any additional advisories in that regard. The primary concern is one of temperature, given the cold weather front that is currently affecting most of the western United States and the presence of thick clouds.
NROL-39 will be ULA's 11th launch in 2013 and the company's 77th overall. This will be ULA's second West Coast Atlas Launch in 20133 and the second Atlas V launch in less than three weeks.
Should the launch proceed, a simulcast will be available at this direct link.