[SatNews] Quite a collection of new solutions.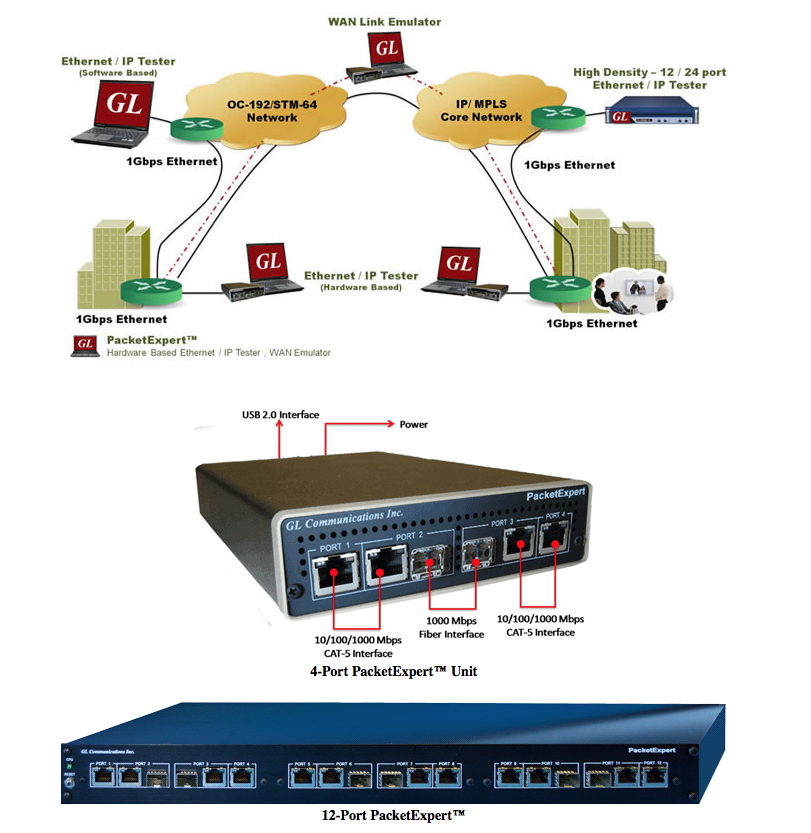 GL's PacketExpert™ is a comprehensive portable (USB based) Quad Port Ethernet Tester with 4 Electrical Ethernet ports. 2 of the 4 ports can be Electrical or Optical, enabling testing on optical fiber links as well. The electrical ports support 10/100/1000 Mbps and the optical ports support 1000 Mbps using Small form-factor pluggable (SFP) Transceiver.

High Density (HD) - PacketExpert™offers higher densities from 12/24 GigE Ports form factor solution for testing GigE switches, routers and network conditions. The chassis comprises of both electrical and optical (fiber) interfaces.

With the capability to generate/receive traffic with stacked VLAN (Q-in-Q) and stacked MPLS, PacketExpert™ finds use in testing a wide range of networks—from testing individual links/switches, testing local Ethernet/IP networks (LAN), end to end testing of Wide Area Networks (WAN), testing Core/MPLS networks, and much more.

Each GigE port provides independent Ethernet/VLAN/MPLS/IP/UDP testing at wire speed for applications such as Wirespeed BERT, and Smart Loopback.

The PacketExpert™ supports all RFC 2544 Tests for the performance benchmarking of individual network elements. These include Throughput, Latency, Frame Loss, and Back-to-Back tests. Similar to BERT, RFC 2544 can be done over Framed Ethernet (Layer2), Stacked VLAN (Q-in-Q), Stacked MPLS, IP and UDP.

Live packet network can be captured and played back using the PacketExpert™ Record-Playback to simulate the varying characteristics of the real-time network in a test environment.

The PacketExpert™ with IPLinkSim™ feature emulates a bidirectional IP WAN link with varying capacities from 10 Mbps to 1 Gbps for the electrical interfaces, and 1000 Mbps for the optical interface using SFP.

The PacketExpert™with the new ExpertSAM application is used to validate service-level agreements (SLAs) as per ITU-T Y.1564 standard with a single-test.

The applications are briefly discussed below:
Wire speed BERT
GL's PacketExpert™'s Wire speed BERT capability measures Bit Error Rate on Layer1, Framed Ethernet (Layer2), MPLS (Layer2.5), IP and UDP layers.

Supports generating various PRBS patterns such as 29-1, 211-1, 215-1, 220-1, 223-1, 229-1, and 231-1 including constant patterns such as All Ones, All Zeroes, Alternate Ones-Zeroes and user-defined test patterns ranging from 1 bit to 32 bits. Selection of optional sequence number insertion allows detecting out-of-sequence packets and packet loss. Both BERT and Loopback support Stacked VLAN and Stacked MPLS. BERT can be configured to send/receive streams with Stacked VLAN/Stacked MPLS frames. In addition, the PacketExpert™ allows sending traffic of specific frame length and rate.
RFC 2544 Testing
PacketExpert™ supports Throughput, Latency, Frame Loss and Back to Back tests as specified in RFC 2544. Similar to BERT, RFC 2544 can be done over Framed Ethernet (Layer2), Stacked VLAN (Q-in-Q), Stacked MPLS, IP or UDP.

RFC 2544 allows the test frame to be configured with Stacked VLAN and Stacked MPLS. This way, end to end RFC 2544 test can be conducted across a Carrier Ethernet/MPLS network. It includes various parameter configurations such as Test Selection, Frame Sizes, Unidirectional/Bidirectional, Number of trials, Trial Duration, and many more. The application also provides user-defined options to configure various packet header parameters like MAC addresses, IP addresses, UDP ports, VLAN ID, MPLS Labels, and others.
WAN IP link Emulation
Portable hardware based IPLinkSim™ is an optional application with PacketExpert™ and it is an "unbelievably" important and simple to use tool that simulates IP WAN (Wide Area Network) links in one box. With its easy-to-use GUI interface, one can begin testing within minutes. It can be used to test performance of applications that uses Ethernet /IP based transport such as Web Services, Email, FTP, Database access, enterprise networks, storage, cloud services, VoIP services, audio/video Streaming and so on. The application offers an efficient and economical way to emulate terrestrial, wireless, Internet, satellite, or private network links.

WAN Link Emulation is provided essentially by bandwidth control within IPLinkSim™, which mimics slower WAN links like RS232/DSL/Modem/T1/E1/T3/E3 etc. This feature allows testing applications running in PCs which normally have 100/1000 Mbps interface but access to the outside internet or intranet over WAN is very slow.
Some of the Important Features
Easy-to-use portable hardware based WAN Link Emulator
Emulates 1 WAN Link per PacketExpert™ unit
Each PacketExpert™ unit supports dual electrical or optical interfaces per unit, with electrical ports supporting 10/100/1000 Mbps and optical ports supporting 1000 Mbps using SFP
Configure as a bridge for easy integration with any test configuration
Emulates dynamically changing WAN conditions like link outages, variable bandwidths links, route flapping, satellite rain fade, and wireless interference with high-flexibility
Monitor WAN traffic conditions with visual display of the traffic conditions, including throughput graphs, and link statistics
ExpertSAM - ITU-T Y.1564 standard Carrier Ethernet Validation
ExpertSAM is intended for multiservice testing to measure the maximum performance of the Device or the Network Under Test. ExpertSAM is a set of procedures that test the ability of Ethernet-based services to carry a variety of traffic (voice, data, and video) at defined performance levels. In particular, it is aimed at addressing limitations of legacy RFC 2544 test procedures, especially for Service Level Agreements (SLA).

ExpertSAM is a single test conducted to validate SLAs as per ITU-T Y.1564 standard. The ITU-T Y.1564 is built around two key subtests, the Service Configuration Test (SCT) and the Service Performance Test (SPT).
Some of the Important Features
Complete validation of SLAs in a single test
Supports SCT and SPT in compliance with ITU-T Y.1564 standard
Supports multiple services (up to 12 services) with varying performance requirements that meets full load conditions
Key Performance Indicators (KPIs) like Information Rate (IR) or Throughput, Frame Loss Ratio (FLR), Frame Transfer Delay (FTD) or Latency, and Frame Delay Variation (FDV) or Jitter, measured simultaneously for multi streams, and Pass/Fail verdict declared
Capability to generate traffic at throughput of CIR (guaranteed traffic), EIR (best effort bandwidth) and Traffic Policing rates (dropped bandwidth) ensuring KPI validation