Space Florida and the Florida Venture Forum, Florida's largest statewide support organization for investors and entrepreneurs, have announced the inaugural Florida Aerospace Capital Forum on November 14 at the Guidewell Innovation Center in Lake Nona.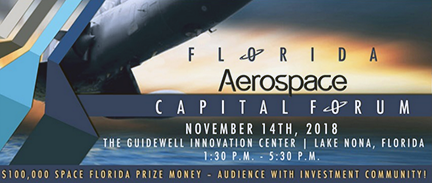 The Florida Venture Forum is looking for companies in the following industries to present at the event: Aircraft and spacecraft design, parts and assembly, advanced materials and new products, engineering design and construction, structural materials and electronic assembly, artificial intelligence, information technology, data analytics, satellite communications, payload development, robotics - parts, design and assembly, unmanned aerial vehicles, cyber security, surveillance, 3D printing and innovation, radiation protection, reconnaissance, & missile development.
In addition to the opportunity to present before an audience of active equity investors, eligible presenting companies will be considered for the Accelerating Innovation (AI) Award offered by Space Florida, a cash prize totaling $100,000. This event is an opportunity to broaden the spectrum of early stage, Florida-based aerospace and aviation companies and entrepreneurs, (as well as non-Florida entities with commitments to relocate), while engaging the industry with the Florida Venture Forum investment community, including private equity, venture capital and angel investors.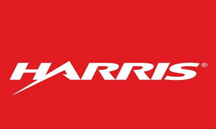 Harris Corporation, as a worldwide leader in aviation and aerospace, will also be partnering to contribute to the success of this event.
Executive Comments
Space Florida President Frank DiBello said that Space Florida is pleased to welcome Harris Corporation to the capital acceleration collaboration with Florida Venture Forum for the first-ever Aerospace Capital Forum. From an industry standpoint, the sponsorship and support of Harris is a tremendous addition to an already thriving capital formation ecosystem anchored by the Florida Venture Forum. .
Kevin Burgoyne, the Forum's president and CEO, noted that the Florida Venture Forum and Space Florida have partnered several times to feature dynamic, cutting edge Florida companies from a variety of industries and connect them with capital sources and other services they need to grow and scale. The Florida Aerospace Capital Forum, and the support of Harris Corporation, mark a new and exciting evolution of that partnership, focusing on one of Florida's fastest growing and important industries."
For more information, visit this infosite...