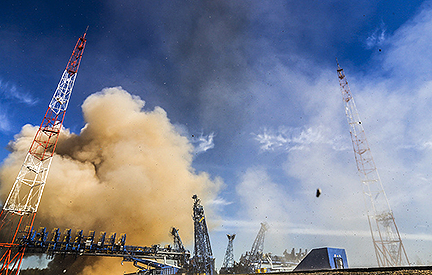 A Russian Soyuz-2.1b carrier rocket with attendant spacecraft was launched by the Russian Aerospace Defense Forces at 3:15 a.m Moscow time on October 25 from the Plesetsk spaceport, according to the Russian Defense Ministry's press service.
The press service stated, "The Soyuz-2.1b rocket launch was supervised by Commander of the Space Forces, Deputy Commander of the Aerospace Defense Forces Gen. Col. Alexander Golovko, who arrived to the spaceport to oversee preparations and launch of the spacecraft."
According to the defense ministry, all pre-lauch operations were completed in the routine regime. The ground automated control complex oversaw the launch and flight of the carrier rocket.
This is the third launch of the Soyuz-2 carrier rocket from the Plesetsk spaceport in 2018. The latest launch was completed on June 17.
Trials of the Soyuz-2 carrier rocket were started on November 8, 2004. Over the last 14 years, 34 Soyuz-2 carrier rockets of 1a, 1b and 1v configurations were launched.
Article and photo source: TASS